Separated by WW2, see these twin brothers finally meet for the first time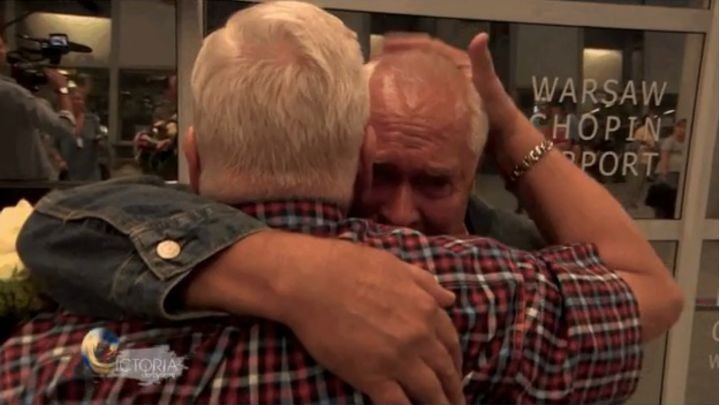 In the aftermath of the Second World War, a Polish woman gave birth to twin boys. She had just been released from a German forced labour camp and was too frail and ill to care for them, so they were taken away.
The boys were repatriated to Poland and adopted to separate families. The first either of them knew about having a twin was when George Skrzynecky learned he was adopted in the 1960s. He reached out to the Red Cross and discovered he had a brother, but no one could find any trace of him.
"But I never lost hope," said George. "One day I am going to find my brother."
Lucian Poznanski only learned he was a twin a year ago.
"I thought I was dreaming," he said. "But deep in my heart, I always knew."
Ad. Article continues below.
And so it was, almost 70 years later, the brothers finally found each other again. Their emotional reunion has been viewed well over a million times, and it is just beautiful. 
George, who made a new life for himself in the US, apologised to his brother for having lost the Polish language, and Lucian told him it doesn't matter.
"My heart is overflowing with joy," he said.
For both men, so many questions are answered after so many years apart, but their years are bittersweet. They learned that their mother searched for them until her death in 1952, and the identity of their father.
Watch the full BBC story here and share your thoughts on this heartwarming story.
Have you ever been reunited with someone you thought you'd lost? Share your stories.