See, there's no such thing as global warming!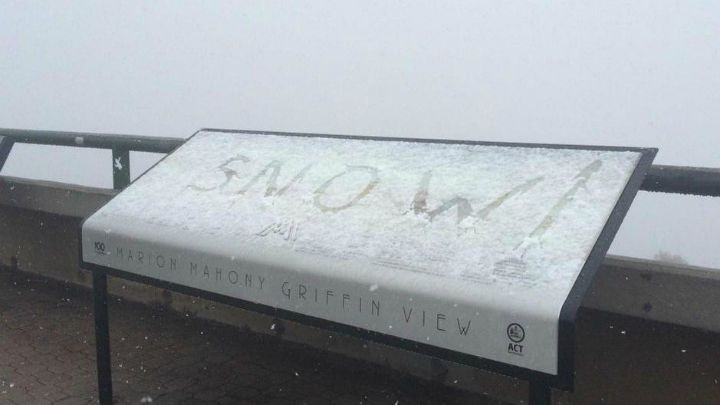 Who said we need to worry about a warming planet? Just days after the Australian government announced what experts are calling a woefully inadequate carbon emissions target to stop the globe from getting dangerously warm, Mother Nature goes out of her way to make a point.
#Snow in #Canberra today. pic.twitter.com/W2mDbLB1BJ

— Luke Hennessy (@LSHennessy) August 12, 2015
Our capital has seen the heaviest dusting of snow its received since 2006, with snowflakes drifting right into the heart of town, and falling just outside Parliament House.
What's with all this white stuff falling from the sky #Canberra? #Snow @abcnewsCanberra pic.twitter.com/vbHuOb8yK4

— Damian Porombka (@DamianPorombka) August 12, 2015
Ad. Article continues below.
The Bureau of Meteorology's ACT office says temperatures dropped to about two degrees today, with the cold snap also felt in Orange and the Blue Mountains.
Loving all the #snow pictures from #canberra today! http://t.co/7wE3pO2et7 Pic: BOM/ACT pic.twitter.com/7HpJtpfTUP

— Shoba Rao (@shoba_rao) August 12, 2015
The original predictions were for snow down to around 1000m, so today's dump took many by surprise.
Ad. Article continues below.
@abcnewsCanberra master 3 enjoying his first #snow in #Canberra pic.twitter.com/c62fqNPO63

— AkkaBallenger (@PlanetAkka) August 12, 2015
It was a dreary drizzly day in Canberra, but Weatherzone meteorologist Anthony Duke confirmed the dusting was "definitely snow", which he suspected was lightly falling in areas at a higher ground.
@AuSenate @AboutTheHouse #nosnow sighted at @Treasury_AU yet. @AusGovFinance – any #snow your side of the building? #canberra #CBR

— Australian Treasury (@Treasury_AU) August 12, 2015
Is it snowing where you are? Share your pictures!