See the moment a Queensland grandmother beat a huge company in a war over breast cancer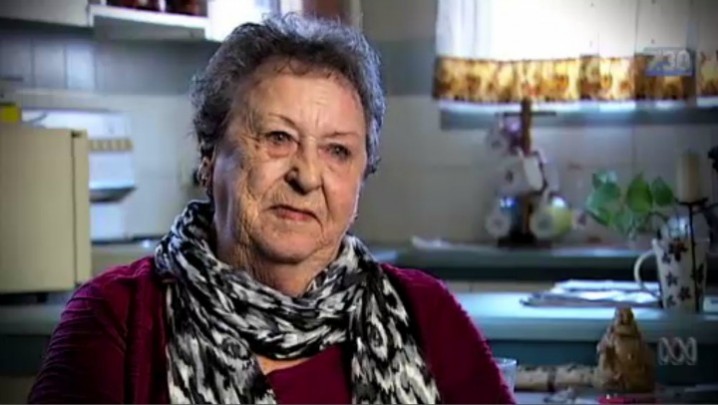 You may not have heard of Yvonne Darcy, but if you have a family history of breast cancer, you might one day be thanking her for her tireless fight against a huge American biotech company that tried to patent a gene that indicates susceptibility to the disease.
The Brisbane grandmother had never been to Canberra but she bravely faced up to seven high court judges to tell her story of beating breast cancer twice.
She was up against US company Myriad Genetics, which held a patent over the gene BCRA-1, a naturally occurring gene in humans that indicated family risk of breast cancer.
As Tracy Bowden explains, "Myriad has not enforced its patent rights against Australian companies offering BRCA testing, but researchers feared that could always change. In the US, Myriad's monopoly meant patients were paying up to $4,000 for genetic tests."
Yesterday, Yvonne Darcy received the news that she had won and that the High Court had ruled unanimously that the patent wasn't valid because a gene is a discovery, not an invention.
Ad. Article continues below.
Having lost twice in the Federal Court, the High Court was Ms Darcy's final option.
This is the moment the 69-year-old got the news she'd been waiting for:
This is the moment a breast cancer survivor hears she won her gene patent fight. Full story: http://t.co/BW2QtGKD1q https://t.co/Ih3K34tqsF

— abc730 (@abc730) October 7, 2015
Paul Grogan, Director of Public Policy at the Cancer Council Australia told ABC's 7.30 last night, "This is an extraordinarily courageous thing to do, for a health care consumer to come out and put their own circumstances out on the line like this, going through multiple courts, but it's all been vindicated. It's a wonderful result."
Ad. Article continues below.
Ms Darcy says"I'm just very happy for everybody concerned, even for future generations. I'm very, very happy about it, yes. I'm so delighted"
And she has a reminder for us all in the face of adversity: "It's not the size of the dog in the fight, it's the size of the fight in the dog. And I'm only a little person, but I fight."
Join us in congratulating Yvonne Darcy on her extraordinary achievement! Do you know someone who can benefit from her efforts?