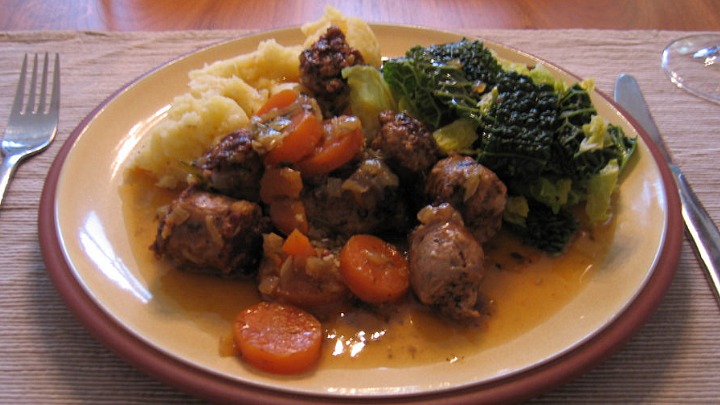 Sausage stew is one of the easiest ways to enjoy a cheap and wholesome meal on a cold winter's night. This version is a family recipe that really packs the flavour and comes out a winner every time. The sauce is absolutely delicious thanks to all the flavours from the sausages, vegetables and gravy mix and is perfect mopped up with a slice of crusty bread or smooth and creamy mashed potatoes. Everything is cooked in one pot, making it super easy to whip together and clean up afterwards! It makes a big batch too, so you'll have plenty of leftovers to freeze for later or enjoy throughout the week. Give it a go – you won't regret it!
Ingredients
Pack of 6 gourmet lamb or beef sausages
1 onion diced
2-3 garlic cloves, diced
2 large Potatoes
2 large carrots
1 x beef stock cube
1 x 400gm can diced tomatoes
1 heaped tablespoon powdered gravy mix
1 cup water
1 cup butternut pumpkin, chopped
1 cup broccoli, chopped
Method
1. Fry sausages in a large pot. Add onion and garlic and fry for 2-3 minutes. Add potatoes, carrots and beef stock cube. Fry for 2-3 minutes. Add canned tomatoes. Add gravy mix to water and add to pot. Cook for about 20-30 min or until potatoes are soft, adding pumpkin and broccoli during the cooking process so as not to overcook them. Serve hot and enjoy the goodness! Note: You can eat it on its own, or serve with a side of mashed potato and wilted greens for a wholesome and hearty feed.
—————————————————–
If you'd like to see more recipes from Starts at 60, click here. And if you have a recipe you'd like to share with the Starts at 60 community – we'd love to share it! Submit them to us by completing the form below.
Submit your article here
Comments