Saturday Night Nostalgia: Remembering television variety shows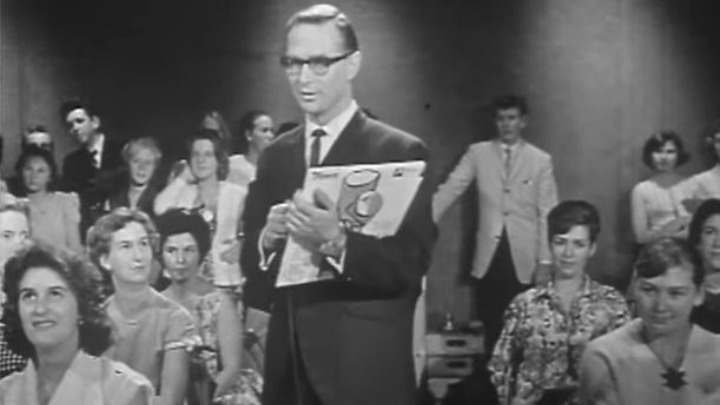 Forget the reality television shows that dominate the small screen today, in the 1960s and 1970s it was all about 'variety shows'.
The one that springs to mind and got things kicked off is Bandstand. Running from 1958 to 1972 and hosted by the bespectacled Brian Henderson, Bandstand became a Saturday night ritual in many households. We'd race home from a day spent with friends outside and beg our parents to let them stay just so we could watch the show together.
We looked forward to the performances of regulars such as Col Joy, Little Pattie, Lucky Starr, Digby Richards and let's not forget The Bee Gees and Olivia Newton-John! There was so much talent and it was fun viewing for the whole family.
Starts at 60 called out and asked you what your favourite variety shows were and we were overjoyed with your responses. After sorting through the results we've put together a list of the most popular variety shows from our community. Read on to find out if your favourite makes an appearance.
Ad. Article continues below.
The Graham Kennedy Show
Graham Kennedy is regarded as the King of Comedy in Australia and he cemented himself with the ground-breaking variety show In Melbourne Tonight before being given the golden opportunity of having his own show as host of The Graham Kennedy Show. Very much an 'adults only' affair, The Graham Kennedy Show had a unique blend of humour and plenty of controversial observations. Perhaps two of the most controversial segments on his show were the 'Crow Call' incident and the 'Criticism of Doug McClelland', both in 1975 before the show ended. Kennedy was often supported by Bert Newton, Rosemary Margan and Pete Smith.
The Carol Burnett Show
This American variety-sketch show starred Carol Burnett, Harvey Korman, Vicki Lawrence and Lyle Waggoner and ran for 11 seasons between 1967 and 1978. Burnett was already a household name before getting her own show, having appeared on such programs as The Ed Sullivan Show, The Paul Winchell Show and the sitcom Stanley. The Carol Burnett Show is regarded as one of the greatest television shows of all time, and arguably one of the show's best skits was 'Went with the Wind', a take-off of Gone with the Wind.
Ad. Article continues below.
The Don Lane Show
Morton Donald Isaacson, otherwise known as Don Lane, was an American-born talk show host and singer. He became best known for his television career in Australia, especially as host of The Don Lane Show, which aired between 1975 and 1983. It was after Lane returned to Australia and appeared at the benefit concert for the victims of Cyclone Tracy that he was chosen to replace Ernie Sigley as the host of The Ernie Sigley Show. The Don Lane Show featured big musical numbers, notable guests and comedy sketches, it was also highly regarded for conducting satellite interviews with prominent overseas entertainers. Jerry Lee Lewis, Abba, Elton John and Cliff Richard all appeared as guests on the show, and Robin Williams made his first talk show appearance on The Don Lane Show.
The Bobby Limb Show
Possibly one of the earliest television music-variety shows, The Bobby Limb Show aired on Aussie television screens between 1959 and 1961. It was hosted by Bobby Limb and episodes included music, dancing and comedy sketches. Regulars on the show were Limb's wife, Dawn Lake, as well as Buster Fiddess, Johnny O'Connor, The Delltones and Tikky Taylor.
Did you watch variety shows growing up? Which was your favourite? Who was your favourite act?