Saturday night nostalgia: Bridesmaid's dresses that haunt our pasts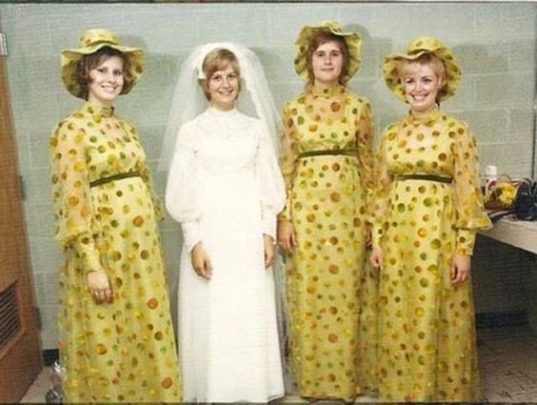 After today's story about the bride who apologised 22 years later to her bridesmaids for the "tablecloth" like dresses she had them wear, we thought we'd take a trip down memory lane into some of the tragic and hilarious bridesmaid fashions of decades past for our Saturday Night Nostalgia. 
Read more: Bridesmaid takes hilarious pics doing everyday things in her dress
Just like bridal fashions, bridesmaid fashions are in a league of their own, and change with the seasons, years, and decades. We'd hazard a guess that most women look back in amusement or sometimes even horror at the dresses they've worn, or forced their friends to wear at their own weddings. 
But any bridesmaid worth her salt knows that you accept the hideous dress in silence out of love for the bride. 
Read more: Saturday Night Nostalgia: Wedding dresses
Ad. Article continues below.
Without further ado, lets take a look at some shockers!
1. These interesting 70s spotted olive numbers with matching shower cap style hats
2. A bit more 70s green, this time a bit more carpet or curtain-like
Ad. Article continues below.
3. In the 80s, lace was pretty. A LOT OF LACE. 
4. Everyone loved the curtain look in the 70s
5. In the 80s, more was more and everything was really big
Ad. Article continues below.
6. This buttery yellow 60s ensemble, complete with hair bow is everything
7. And who would ever regret vibrant, head-to-toe pink?
Ad. Article continues below.
8. And these stunning 50s dresses have so much going on …
9. And these lovely 50s ladies are timeless
10. This bridal party from the 50s are stunning in pale blue
Ad. Article continues below.
Check out this cool video of bridesmaid fashions over 100 years!
What dresses have you been made to wear over your lifetime?