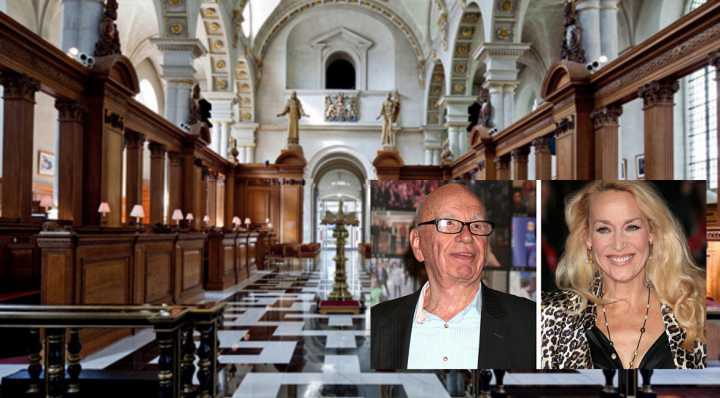 If you were getting married for the second, third or fourth time at 84 and 59, would you do it fast, with all the regalia and tradition you could muster?  It seems that is the approach Rupert Murdoch and Jerry hall are taking for their upcoming nuptials.
All of us have been amazed at the speed in which Jerry Hall and Rupert Murdoch's courtship has moved from the public eye to the public display of affection, and now their wedding plans show they really are moving fast.  The announcement of their wedding date, location and plans comes perfectly timed for Valentines morning in Australia and show these two want to be married… fast!
The couple, who have been courting in the public eye for just four months now plan a wedding fit for a mature media mogul and his model wife in a little under a month on March 5th.  Wow!  We're impressed at the speed these two move!
Murdoch and Hall have announced they will hold a "wedding celebration" at St Bride's Church in Fleet Street in London, in the heart of the area where the print and publishing industry Murdoch leads was built.  The Church calls itself "The spiritual home of the media".
The couple is apparently not to be married in the church on the day, but will be holding a service to celebrate their marriage in St Brides, or so says the representative of St Brides who says they "will be having a service to celebrate the marriage."
The Church they are choosing to be blessed in has an enormous history for the media industry.
Murdoch at 84 is enjoying a little bit of tradition, announcing their engagement with a newspaper advertisement in January, just how people used to in the good old days.  And now, he has selected the most historic Church in his circles to celebrate his marriage in.  We find the desire for tradition just a little bit lovely.
St Brides is a spectacular church built before history logged time.  It was almost destroyed by fire in 1666 in the Great Fire of London, before being restored under the direction of Christopher Wren, after which it was woven into the fabric of the print industry which grew in Fleet Street around it.  It's spire is well known, and has undergone extensive renovations after World War Two saw it reduced to a roofless shell.  In the process, an archaeological dig uncovered 6 previous churches have been built on the site over 2000 years.
A fascinating choice for a couple that looks at 84 and 59 like they want to flaunt tradition in so many ways with their rapid courtship and quick wedding.
Maybe they're just impatiently in love!
Tell us today – Is this how you'd do it if you fell in love later in life?  Fast, elegant and traditional?
Comments