Renting with dogs? Here's how to make sure you get approved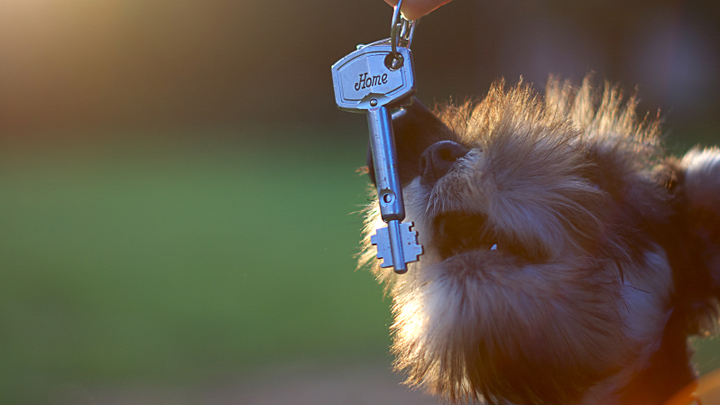 You have finally found your dream rental but to read the dreaded words "no pets" in the advertisement can make your heart sink. It is natural for property owners to be concerned about having pets in their rentals. They want to ensure that their property remains undamaged and the neighbourhood remains peaceful. As pet owners, there are a number of things you can do to increase the chances of having your dog/s allowed in rentals.
Training
Doing training with your dog is a great way to start. The RSPCA Animal Training and Behaviour Centre holds a number of fun based classes which can teach you how to train your dog to be happy and well behaved family members. Classes start from K9 Kindergarten and Basic Training, and continue through to Intermediate, Dog Sports and trick classes. They also give free advice on how to manage barking, escaping, digging and other undesired behaviours.
Ad. Article continues below.
Prepare a resume for your dog/s
This should include medical records (vaccinations, treatment schedules such as worming and flea prevention etc), references from past landlords, neighbours and vets, your dog/s training history and details of how seriously you take responsible pet ownership (tidying up after your dog, keeping your dog clean, providing them with appropriate levels of exercise etc).
Mat training
It is understandable that many pet owners are nervous about or don't want to have their pets inside, especially in rental properties. Remember that dogs are social animals and like to be with you! We believe that having pets inside is better for your dog behaviourally as it helps to prevent many problem behaviours often seen outside such as barking and escaping. Teaching your dog where you would like them to lay in the house is the first step and can help to prevent unwanted behaviours such as jumping on the sofa!
Ad. Article continues below.
Crate training
Crate training your dog is another great way to start to incorporate dogs inside the house, minimising the risk of damage to the floors and furniture and minimising having dog hair everywhere! There are many benefits of having a crate trained dog. Refer to our crate training and benefits of a crate trained dog information sheets.
Keeping your dogs entertained
Ad. Article continues below.
There are many ideas to help keep your pets entertained to prevent them finding their own entertainment in your rental properties garden beds! Refer to our Entertaining your dog and Kong information sheets. Other recommendations-
Raise the subject of dogs with the owner/manager of the rental property, ideally in a face-to-face meeting.
Offer to draw up and sign a pet agreement/policy in conjunction with the owner/manager to clearly define behaviour appropriate to the property.
Have you rented with a dog or another pet? What was it like? Did you have any trouble? Tell us below.