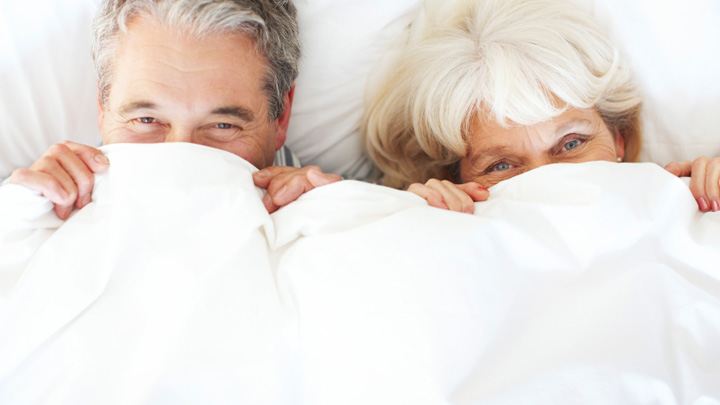 Forget about the social messages telling you that sex is not for anyone over the age of 60, according to Harvard Medical School the sexual revolution baby boomers created in the 1960s continues as you age.
In its report Sexuality in Midlife and Beyond physical and emotional issues influencing your sexual capabilities are explored.
The report says there are five core factors that can impact your sexual fitness, energy and spontaneity.
Relationship issues
If there is tension or emotional distance between you and your partner it can have a negative impact on your sex life. A sexual issue can strain your ability to get along with your partner. Consider whether issues like finance or family problems are at the root of your problem and work to address them separately in order to get your sex life on track.
A negative body image
Body changes are inevitable in both men and women. You're getting older. You've had children, you've gained weight, you might have even started to lose your hair. Your fitness level has gone up and down. You might have had one or two health problems over the years. All of these things can make you more self-conscious about your body, which might lead to less activity in the bedroom. Try complimenting your partner on their appearance and their desirability to see how that influences things.
Performance anxiety
Sexual performance is an increasing issue for both men and women as you get older. You might get so worked up about your ability that sex stops being enjoyable. Don't stress. There's more to good sex than just technique; when you and your partner are both mentally and physically turned on then chances are you'll enjoy the sex more too.
Stress and lifestyle changes
Stress can hit you from any direction and can deplete your energy and your sex drive. You might be worried about the kids, your ageing parents, financial status, your health and a whole lot more, and by doing so you focus less on having an enjoyable sex life with your partner. Similarly, an increase in the way you use technology could be affecting your sex drive. You might want to consider developing a routine that you and your partner can share to prepare you for bedtime, and it wouldn't hurt leaving the electronic devices in a drawer or another room if you don't want to be distracted from those adult activities.
Past experience
Harvard suggests that your sexuality is shaped by your family, culture, religious background, the media, and your peers. This means that your history and that of your partner will either support a healthy enjoyment of sex or it could complicate matters. It's important that if there are differences in experience and in expectation when it comes to sex, you maintain a level of maturity. Being respectful and recognising that there is a physical and emotional connection between you is just as important as the act itself.
Do you have any thoughts on the issue? Share them with us.
Comments