When your grandchildren forget about you...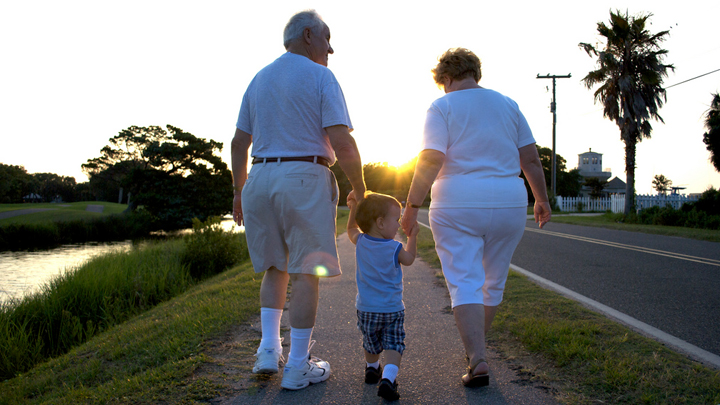 Over a coffee with my oldest friend Maree last week, I couldn't help but gush about how great my grandkids were. Maree and I went to high school together many years ago and have raised our families and treasured our grandkids together so this wasn't anything new.
"…On Tuesday Anna and her new boyfriend came to visit and they brought freshly made muffins which was lovely then on Wednesday night Ben stopped in after his first university lecture and stayed for a quick dinner".
I have been blessed with a family that truly treasures the value of family but I realise some have not been so lucky.
While my grandchildren have begun to grow up, they haven't stopped visiting. They call in to see me, they invite me over for dinner and they even invite me out for coffee and cake (yes, that is my treat but I'm sure that's not the only reason I get an invite!).
But after I had gushed about my fabulous family to Maree she seemed shocked… "They come over just to visit? Spontaneously? With their friends?"
Ad. Article continues below.
"…Yes." I replied like it was totally normal and her questioning was absurd.
Maree went on to tell me that her grandson, who is the same age as Anna, only makes contact on birthdays or special occasions. He doesn't even turn up to some family occasions.
And her other grandson, just a year younger than my Ben, still in grade 12 at school hardly speaks to her and chooses not to tell her about functions and events she could attend like his final school rugby or volleyball matches.
Sometimes, when I go along loving my own life and enjoying the family I have, I forget that some others aren't so lucky.
According to Grandparents.com, 90 per cent of grandparents that participated in a 2011 survey reported they loved talking to others about their grandkids, but what about the 10 per cent that don't love it? The same survey reported that 92 per cent of grandparents have changed their grandchildren's nappies, but what happens when they grow up, don't need you and they begin to forget about you?
Ad. Article continues below.
I am in no way special. I simply love my grandchildren and am there for them whenever, no matter what so I don't know why I am blessed to have beautiful relationships with each of them. But, it could come back to the important we place on the value of family.
Perhaps families are forgetting about family?
I lost my father very young, but while I was growing up, every Friday night we would have a family dinner. And I mean the whole family. Even those who weren't related to us at all would turn up!
It was held at our house in East Brisbane and my mother and uncle would cook for every family member and about four friends for each child. Our dinners were known throughout the neighbourhood and they were incredibly fun.
We would laugh and talk and the anticipation leading up to every Friday night was huge. We loved our family nights and perhaps having regular time together is what showed us the value of family.
Ad. Article continues below.
Family car trips are silent these days, everyone preoccupied on their iPhone or iPod and families today don't eat together. When Anna was in grade eight I can remember her telling us that she was one of four students in her class of 27 that ate dinner at a table with her family every night.
It shocked me, but it made me realise that without the small family memories like eating together or taking car trips together and talking, children aren't taught to value family.
I hope that families can begin to move with the changing times without forgetting the importance of family. I hope they realise a little family time goes a long way in teaching children to value family and hopefully, grandparents like Maree and so many others won't be forgotten.
What is your relationship with your grandchildren like? Do you sometimes feel forgotten or are you lucky to be close? Tell us your story in the comments below…