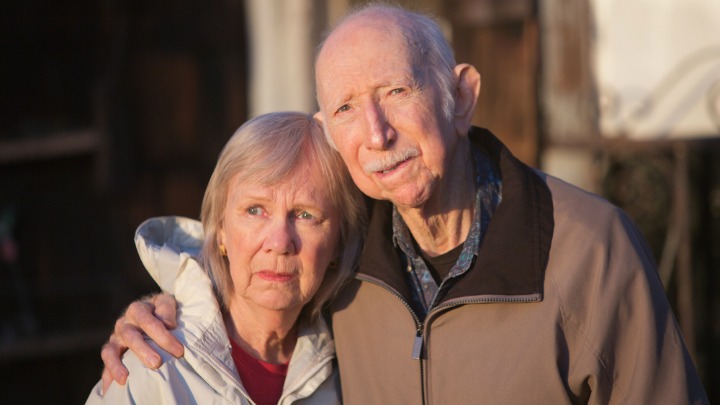 Back then, Elizabeth, 62, would keep her tablet fully charged for when her grandkids would come on Skype. She would even make a note on the fridge for the regular Skype chat times and politely decline any coffee meet ups with friends so she wouldn't miss the chance to talk to her grandkids.
Now, things couldn't be more different. Every time Elizabeth is on Skype with her son, her grandkids are no where to be seen.
"In the beginning, I thought that they just had school work to finish. But after a few months, I realised that they hadn't said hi for a while," said Elizabeth.
When she asked her son if everything was okay, he assured her that they were either just tired or had things to do around the house.
But one day, this happened, "As I was speaking with my son Paul on Skype, I saw my two grandkids giggling with someone on the speaker phone."
"I said to Paul, "Who are they talking to? They sound like they're really entertained" and then Paul said,"Oh that's just Nana Laura on the other line. They've been talking for an hour now"," said Elizabeth.
Elizabeth's immediately felt down and sad.
"I thought, is there something that I'm not doing?" she said, blaming herself for not being the "favourite nana". "I really don't know what to do and my son doesn't think this is a problem at all," said Elizabeth.
Barbara who is a writer on Natterat60, commented, "All I can suggest is try to become relevant, tap into their interest, if you can visit try for the extravagant, not in gifts but a shared experience."
"Most of all she should discus it with her son and try to find a solution," said Barbara.
Some people think that the responsibility also lies in the parent to help foster a bond between their children and the grandparents while some believe that it is entirely up to the grandparents to build up that rapport.
According to Susan M. Kettmann, M.S.Ed. the author of 'The 12 Rules of Grandparenting: A New Look at Traditional Roles and How to Break Them', these strategies can be useful for better connection with your grandkids…
Give your full attention
When in person, make direct eye contact that draws them to you and always screen out as many interruptions as you can. Put on soft music instead of a blaring television and keep your hands free of busy work.
Try not to dominate
At least half of any conversations with grandchildren should be spent listening. Resist feeling that because you are the adult, you should answer all of their questions or give them the answers. It might be more fun to suggest that you search for answers together so that they can experience the joy of discovery.
Offer subject matter but take your cues from them
If they chatter on about things that you aren't really interested in, get comfortable and make what they say a priority anyway.
Do your best to be available to talk when they want to
Try to be available when a grandchild wants to talk to you. If it is really impossible to converse at the time that they want, agree on a time as soon as possible when you can do it, and follow through! A grandchild reaching out, offers you precious moments that might never come at a more "convenient" time.
Schedule in "do-nothing" time.
When you do get to spend time with them in person, plan in time to take a walk, bake cookies, or other low-key activities that are unhurried. When hands are busy, words flow!
Ask older grandchildren for their opinions
If you have older grandchildren, ask them their opinions on current issues like religion, politics, drugs, and violence. Listen carefully to what they have to say and question them about the consequences of what they say so that they learn to process thoughts from start to finish.
Ask your grandchildren to teach you something
Request assistance with something to make grandchildren feel useful and grown up. You've taught them plenty of things, so give them a chance to return the favour to you. Ask them to read a map for you, rearrange a cupboard, or to help you with a computer program. Thank them for their help.
Do you have great tips to share?
Comments