Ten things all grandfathers of girls should remember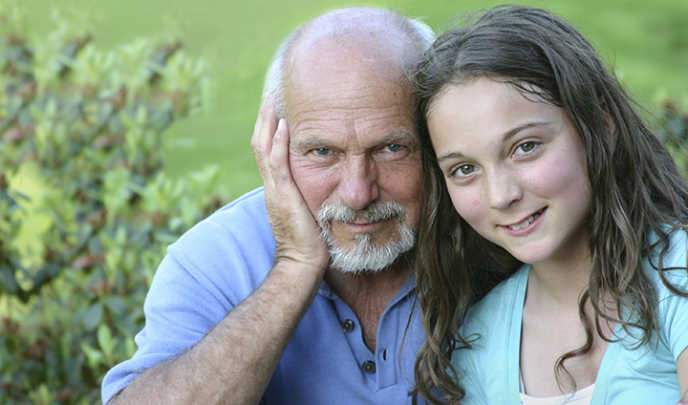 A granddaughter who loves her "pa" "granddad" or "pop" can do so as a child with the most beautiful warmth. Then they become teenagers or pre-teens, and, frankly, I loathe to see the grandfathers pull back, not quite knowing how to communicate. I feel sad when I see a grandfather sitting across from a teen or pre-teen granddaughter and can't quite work out how to reach her.
As so many of us know either through having a terrific grandpa, or being one, grandfathering girls is a wonderful thing. They smile when you love them, they smile when you teach them and they share, perhaps more than boys do, if you can stay in their hearts as they get older. But your relationship changes, it has to for you to stay close as they get older, and I have a few tips I want to share from watching my own 67 year old father adapt to being a great granddad of girls! He's quite open about his learnings.
Young girls want you to love them. They do want to grow up, be bought bigger girl things and go out, but more important than that – they want to feel the love you have to share with them. If you got to know your granddaughter as a younger girl, don't forget to keep in touch with her and don't shrink back as she gets older which it is all too easy to do.
Be the patriarch she will remember forever. I'm sure I instinctively used the values instilled in me in my early life by my grandfather to select my husband. It is amazing how much opportunity you have if you take it to teach her about how to be treated by others, by men, and how to treat others and love them.
Ad. Article continues below.
Take the time to be part of her pop-culture. Young girls today are, just like we were in every generation before us, fascinated with their own pop culture, not yours. My dad has worked this out, and strives to stay one step ahead of the big topics of conversation for 10-14 year old girls. He knows who Taylor Swift is, listens to pop music with the kids on their iPods, takes them to the movies on the holidays to see the latest animated film and seeks out things they think are cool…
Encourage her to be active. There are some things that cannot be taught by parents anywhere near as successfully as they can be taught by a grandparent and how not to be too precious is one. My grandfather encouraged outdoor activities extensively in our early lives, and didn't let us give up, wimp out or treat us like "girls". We played cricket, went fishing and got dirty. It wasn't all princesses and fairies. I love that.
Make times to remember and teach her to create memories. As the patriarch, you can take the role on of the person who thinks up awesome memories to create. That is, if you want awesome things for you and her to remember. People don't remember the things that they did every day, that become ordinary. They remember special times, traditions and emotive moments and they use these memories all the way through their life when they need them for motivation, reflection or happiness. So help her learn to make memories early in life.
Teach her about generosity and show her the world doesn't revolve around her. It is easy to fall into the trap of giving our grandkids so much attention that they think the world revolves around them, but that doesn't teach them the beautiful power of generosity and how wonderful it is to give time, effort and care to others. Teach your granddaughters how much fun life can be when you give, serve, share and listen… and let them learn not to be right or first all the time.
Ad. Article continues below.
Be there. You might not like her dance concerts, but if you think it is important to her, you might want to consider being there… And not with the headphones on listening to the football. Then she'll know you're really there "for her".
Play with her. Just because she gets older doesn't mean she wont look forward to a good old game or challenge with you. Challenge her thoughts, debate current affairs, play a board game, set her a challenge, solve a riddle together or have an adventure. I bet she'll love it.
Go out with her. Have you ever considered booking a date with your granddaughter… just you and her? You could go for sushi, have a milkshake, go for a walk at the beach or any number of other ideas. Even if you have never done it before… consider it. Imagine what sort of memories it could create for you and for her.
Don't forget she'll grow up. These years are for treasuring. You'll blink and just like your daughters and sons she'll be all grown up and these days and opportunities will be gone… Don't wait until it is too late.
What do you think is the most important thing a grandfather can teach his granddaughter? Tell us your thoughts below.