Stolen family engagement ring found just in time for proposal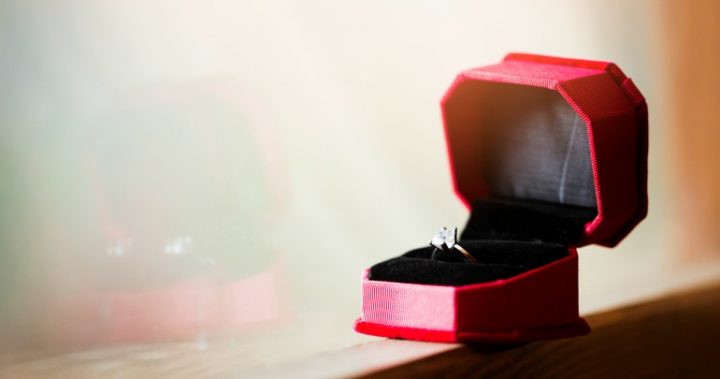 Having a beloved family heirloom stolen from you, especially when it belonged to someone you love, is devastating. But imagine if you were looking after it for someone else?
That's exactly what happened to California man Nico Bellamy. He was gifted his girlfriend Caitie Schlisserman's late grandmother's engagement ring three years ago by her father, ready for when he finally decided to propose.
Having kept it safe the whole time in a local deposit box, he was finally ready to pop the question last year. The couple was preparing to move from West Hollywood to Silver Lake, California at the time, so Bellamy took the ring out ready to switch it to a new location.
Keen to keep it close to him, he told People he wrapped it in a small plastic bag and put it back into its box, before keeping it in his backpack. He was eventually forced to put the bag down in their new home while he helped the movers place all their furniture – and he wasn't aware it was gone until a week later.
Ad. Article continues below.
Bellamy told the magazine he was about to pick up Schlisserman's father from the airport when he remembered to check his backpack for the ring and discovered it was gone.
"When I dumped everything out and realised the ring wasn't there, I ran to the bathroom and threw up immediately," he said. "Not only was it this heirloom that was given to me by her dad to keep safe and I misplaced it, but her father was still recovering from his mother passing away just nine months earlier."
Admitting he was "freaking out" as he desperately searched the house, Bellamy said he finally remembered handing the backpack to one of the movers, so assumed it was them who had picked it up. However, after frantically calling the company, he didn't get a response.
Ad. Article continues below.
With no time left to get his future father-in-law, he had to keep the panic hidden from his girlfriend as they drove to the airport. Worried it could harm his relationship with her father, he pulled him aside immediately to tell him what had happened.
"To his credit, he's a very, very kind person, but I've never been in a situation like this, so I took my glasses off in case I was going to get hit!" He told the mag.
In a stroke of fate as they drove back from the airport, Bellamy chose to take a different route home. After stopping at a junction, he noticed a sign pinned to a tree which read: "Found Engagement Ring." Keeping any hope hidden from his other half, he pretended he was taking the dog for a walk later that day, before returning and messaging the number. As luck would have it, it was his ring after all.
Ad. Article continues below.
The kind-hearted strangers revealed they had found the ring in a nearby alley, and Bellamy assumed the movers had looked inside, seen the plastic bag, and believed the box was empty – dropping it there. The relieved husband-to-be kept the incredible story hidden from Schlisserman until New Year's Eve, when he proposed to her in Paris.
While he's since described it as "the most stressful two hours in my life", the pair are now over the moon and have both shared romantic photos together on social media since.
Have you ever had a beloved heirloom stolen? Did you manage to get it back?
With Facebook removing news sites from your feeds we ask that you sign up for Starts at 60's emailers here. And to keep us on your wall, join some of our new Facebook groups and clubs:

News Junkies Club – Australia
News Junkies Club – USA 

See news on the change and links to all our other clubs and groups here.