Social media campaign sparks debate around boundaries and children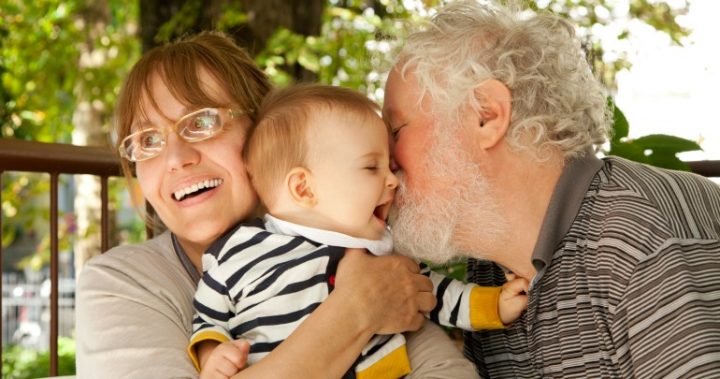 You might think it is perfectly normal to hug and kiss relatives and other loved ones at Christmas time (or any other occasion), but according to a new children's rights campaign kids forced to get cuddly with their relatives grow up with conflicting messages about 'consent'.
Though the social media campaign 'Safe Kids Thriving Families' created by a New Zealand-based social services agency, CAPS Hauraki, has been around for a little while now, it became widely shared across social media during the festive season when it is customary in a lot of families to embrace and/or kiss as part of a greeting or departure.
The full message on the A Mighty Girl Facebook page reads: "I am 5. My body is my body. Don't force me to kiss or hug. I am learning about consent and your support on this will help me keep myself safe for the rest of my life" and is accompanied by an excerpt of an article written by Katia Hetter, a writer and producer at CNN in the United States.
Now while some children might be all up for cuddles and kisses, there are those children who want nothing to do with such activities and that by forcing children to engage when they don't want to puts them at risk.
Ad. Article continues below.
The agency is quick to quash the thought it is opposed to hugs and kisses and says the campaign is about acknowledging that children have powerful instincts and sometimes adults override these instincts because of some sort of social nicety that is largely based on the needs and/or wants of the adult.
In response to the post, many Facebook users have offered alternatives to hugging and kissing with one user saying a "hello, high five or handshake is acceptable, and offers the children the choice of whether to touch the adult or not when saying hello".
Earlier this year Lucy Emmerson, a coordinator at the Sex Education Forum in the United Kingdom, said that instead of "helping a child learn about showing affection, it [forcing them to hug or kiss a relative] might blur the boundaries of what is acceptable when it comes to physical contact".
Her opinion formed part of a discussion on the National Survey of Sexual Attitudes and Lifestyles that found one in five women and one in 20 men across the UK had experienced attempted sex against their will.
Ad. Article continues below.
"I believe learning about consent starts from age zero," Emmerson said at the time, highlighting that children learn from everyday experiences about whether or not their opinion is valued and what control they have over physical contact with others.
Perhaps you can understand the position of this campaign and would be outraged if your child or grandchild was forced to hug or kiss a complete stranger. However, is this outrage in any way different to encouraging your child or grandchild to hug and kiss you or another of their relatives? No doubt you have some opinions on this topic yourself.
What do you think? Did you encourage your children or grandchildren to hug and kiss relatives when they might be reluctant to do so? What recommendations do you have on this issue?