Heart-warming story of Grandpa who cuddles sick babies at hospital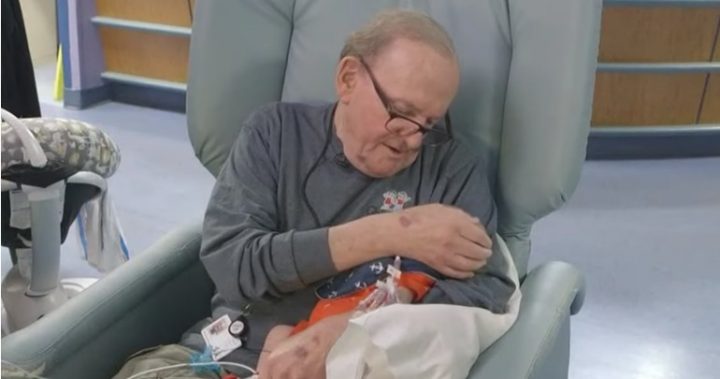 With so many awful stories in the news, it's sometimes nice to take a look at some of the sweeter things happening in the world. One of those is an adorable grandfather who volunteers to cuddle sick babies in hospital.
In what could arguably be the best job in the world, grandfather David Deutchman spends two days a week snuggling newborn babies that can't leave hospital because they're too small. He visits the hospital every Tuesday and Thursday to offer comfort to the small babies when their families can't always be there for them. In some cases it's just went a mother or father is taking a shower or a brief break, while he sometimes shows comfort when parents are in transit to the hospital.
"It's comforting to me to see them like this," David explained to 11Alive of his extremely important job. While it brings him and the families of the sick babies a lot of joy, he admitted that some of his male friends didn't understand his role. "They just don't get it," he said. "The kind of reward you get from holding a baby like this."
To locals and staff of the Children's Healthcare of Atlanta hospital, he's earned the nickname "NICU Grandpa". When he's not cuddling the babies, he's singing them to sleep. He described his job as a "passion". "Every day when I drive in here, I don't know what kids and parents I'm going to meet, or what the issue will be or how I can help," he explained. "It's been wonderful for me."
Ad. Article continues below.
A recent report by Good House Keeping suggests that the 82-year-old has been volunteering at the hospital for the past 12 years. Now retired, David used to be a marketing executive. Some of the babies he cares for require 24-hour care and David is always around to offer help when it is needed.
Although he sometimes gets "puked and peed on" he said that he still loves his job. People across the internet do as well, with the hashtag #NICUGrandpa becoming a popular way for strangers to express their joy in David's unique role.
Oh dear, I seem to have something in my eye ???? What a hero! #ICUgrandpa

— Hazel PR (@EmmaSpearing) October 18, 2017
He spends his time snuggling tiny babies who need extra hugs. #choa #nicu #icugrandpa #love pic.twitter.com/I9FbikJUq9

— Humankind (@Humankindvideos) December 17, 2017
Ad. Article continues below.
One person wrote: "Oh dear, I seem to have something in my eye <3 What a hero." Another said: "This is LOVE…We need so many more exactly like this." A third comment read: "God Bless #ICUGrandpa There's a place in Heaven. My Granddaughter was in #NICU in ATL, July. Wonder if he met my son in law ❤ God Bless!"
What do you think of David's job? Is this something you would do? Do you think it's important for Baby Boomers to offer assistance like this in retirement?
---
With Facebook removing news sites from your feeds we ask that you sign up for Starts at 60's emailers here. And to keep us on your wall, join some of our new Facebook groups and clubs:

News Junkies Club – Australia
News Junkies Club – USA 

See news on the change and links to all our other clubs and groups here.