Making special Christmas memories with your grandkids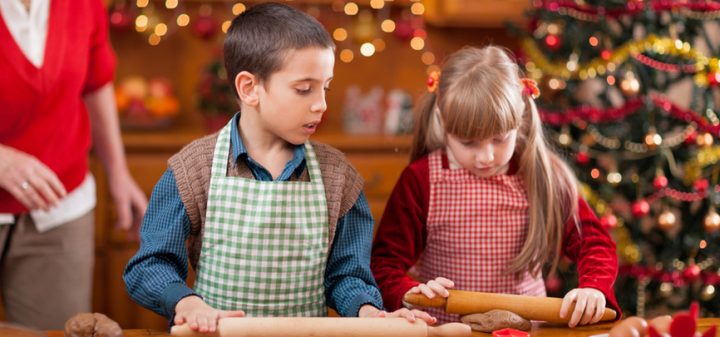 Christmas is just days away and if you everything a little last minute like most, then you may not have had time to buy or make decorations! These DIY ideas are a great way to make your house look festive for Christmas, and they are affordable as well. A special bonding activity for visiting grandkids will ensure happy Christmas memories for years to come.
1. Pasta shell vintage trees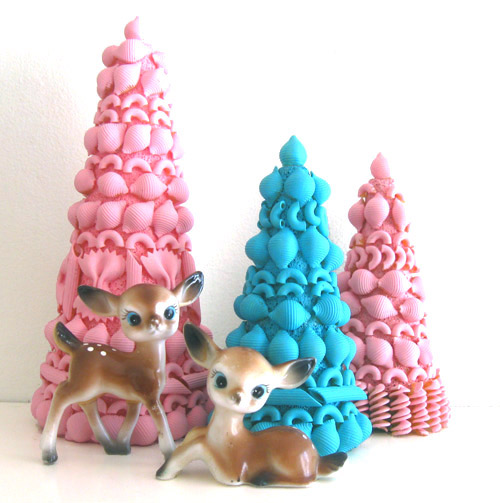 These cute vintage trees are easy to make and look very sweet.
Items needed: pasta shells (various types), glue, styrofoam cones, spray paint in your favourite colours
Ad. Article continues below.
Instructions: apply glue to your cones. Then add the shells in whatever pattern you like and let dry. Spray paint with your favourite colours and set up with little vintage animals.
2. Snowflake aerial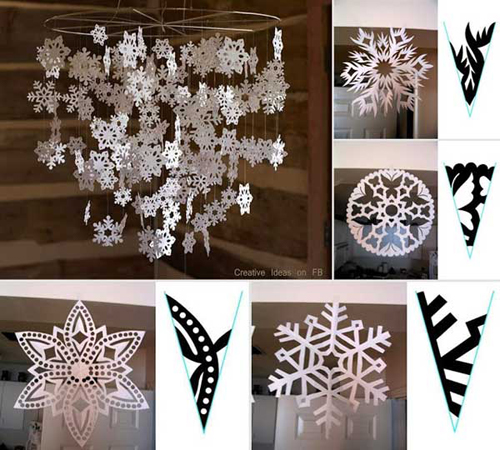 How great does the aerial look? It's so easy to make and will be a stand-out at your party.
Items needed: paper, scissors, fishing line, hoop, protractor
Ad. Article continues below.
Instructions: make circles on paper with a protractor, cut out and fold in half. Fold the circle in half and half again. Draw the pattern as above on the paper and cut out. Open up, and you're done!
3. Cork tree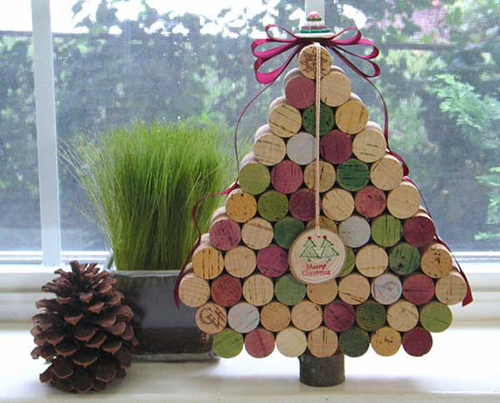 If you have old corks lying around, why not put them to good use?
Items needed: corks, hot glue, small round wood piece, ribbon, cardboard (7 cork widths long)
Ad. Article continues below.
Instructions: place the cardboard on the wood piece lengthways and glue on. Glue the corks on as shown in the photo. Tie off with ribbon!
4. Yarn star wreath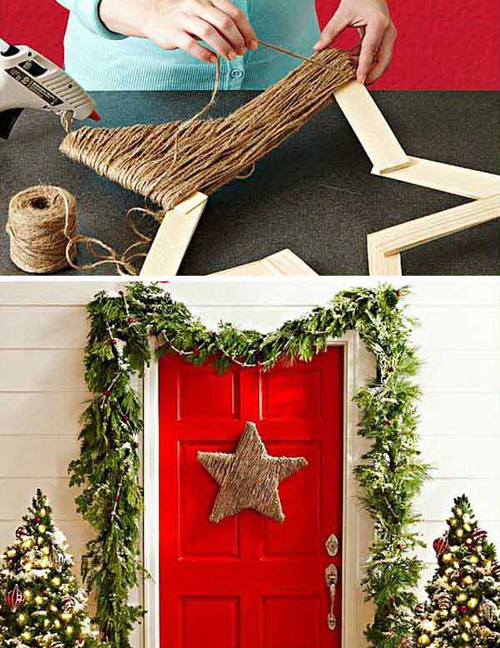 If you're not one for tradition, this star wreath is a stylish and unique alternative.
Items needed: wood pieces, yarn, hot glue gun
Ad. Article continues below.
Instructions: Use your pieces of wood (15cm long) to form a star and glue down. Grab your ball of yarn and wind around the shape, finishing off with a knot.
5. Spare baubles tree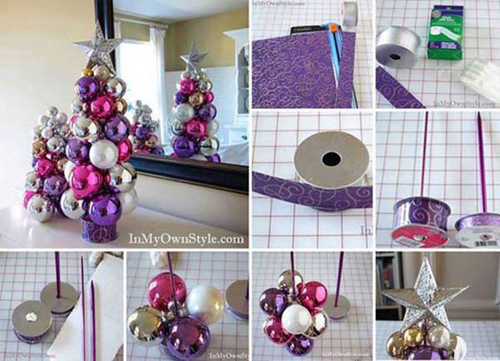 After you've decorated the tree, you might have some baubles left over – this beautiful centrepiece will make use of them!
Items needed: baubles, star, ribbon spool, knitting needles, colourful patterned paper, blu-tak
Ad. Article continues below.
Instructions: Cut the paper so that it is the right length and width to fit around your spool. Secure with tape or glue. Insert your knitting needles into the spool hole and secure with blu-tak. Begin to thread the baubles over the needle until you reach the top. Top with a star!
6. Printable Christmas scene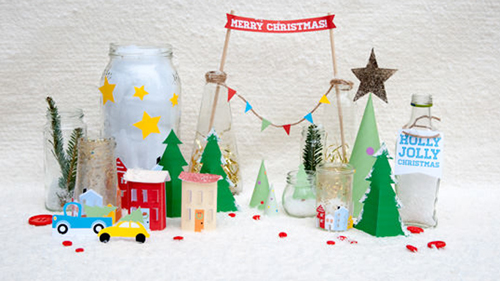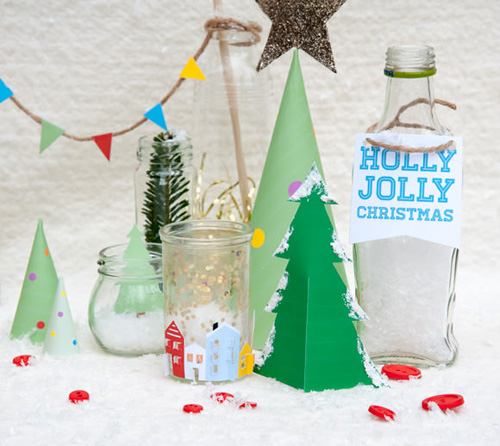 This printable Christmas scene will no doubt be a hit with the grandkids. It is a cute and cheap way of celebrating the festive season.
Ad. Article continues below.
Items needed: HP print­able table­top vil­lage (down­load here), PVA glue, faux snow, jars, double sided tape, scissors, glitter, twine, hot glue gun, white paint, wooden dowels, buttons
Instructions: Print out the holiday village. Cut the pieces out, fold along the lines and use dou­ble sided tape to attach build­ings to your jars. It's up to you which build­ings you tape to the jars and which stand on their own. Apply glit­ter and your snow to the bottles. Arrange as you like!
7. Soft drink bottle penguins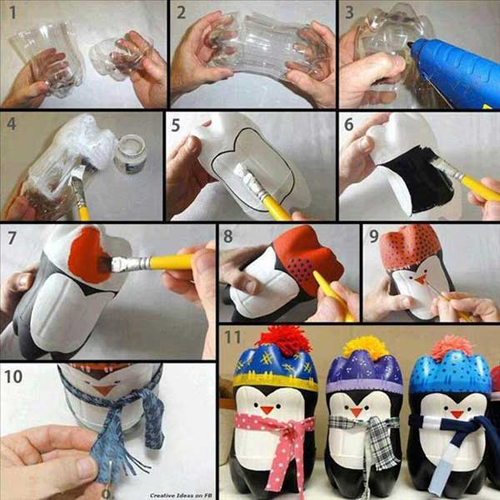 This is one the grandies will love to help with! Get them involved and make their own penguin friends
Ad. Article continues below.
Items needed: plastic soft drink bottles (2L), paint brushes, hot glue gun, fabric offcuts, assorted acrylic paint colours, black permanent marker, pom poms
Instructions: Cut the base off the soft drink bottle, then fit over the remaining bottle, so it fits neatly. Hot glue gun them together. Paint the bottle white and let dry. Draw the face as so on the bottle with the marker pen. Paint the rest of the bottle black except for the top – that's the hat. Now hat the hat any way you like and top off with a pom pom. Paint on decorative features and face. Make a little scarf with fabric.
8. Faux fireplace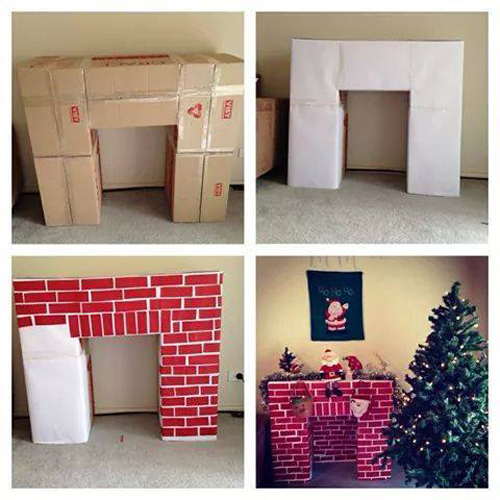 Santa can't visit without a chimney and fireplace, but if you don't have one, some old boxes and paint will have you sorted.
Ad. Article continues below.
Items needed: cardboard boxes, packing tape, white paper, red paint
Instructions: Assemble the cardboard boxes on top of each other to form the fireplace and secure with packing tape. Cover with white paper and secure with tape. Paint on red bricks like in the picture and let dry! *Note* Remember to put down newspaper before you start painting.
9. Paddle pop stick snowflakes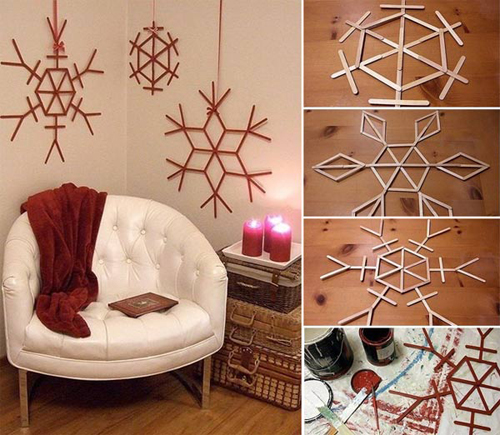 Even if you're not having a white Christmas, these snowflakes are a pretty addition to any Christmas party house.
Ad. Article continues below.
Items needed: paddle pop sticks, hot glue gun, paint, ribbon
Instructions: Assemble your paddle pop sticks as shown above and hot glue gun in place. Let dry and then paint. Hang using ribbon.
10. Glitter centrepiece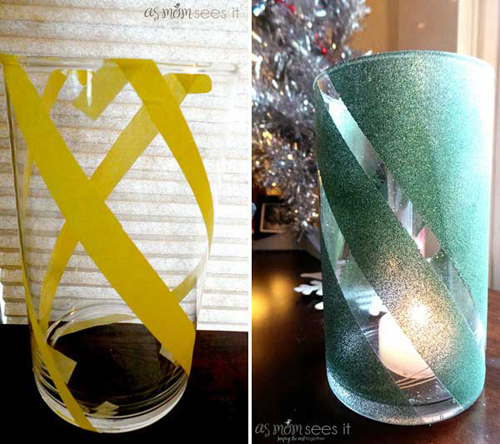 If you're in a rush to create a centrepiece, this can be done cheaply for a stylish and effortless table setting.
Ad. Article continues below.
Items needed: painters' tape, large vase, glitter paint, tea light candle
Instructions: Apply your painters' tape in whatever pattern you like on the vase. Paint in the exposed areas and let dry. Peel the tape off carefully to reveal a stylish print on the vase. Insert tea light candle and light for a special Christmas.
11. Straw sparkles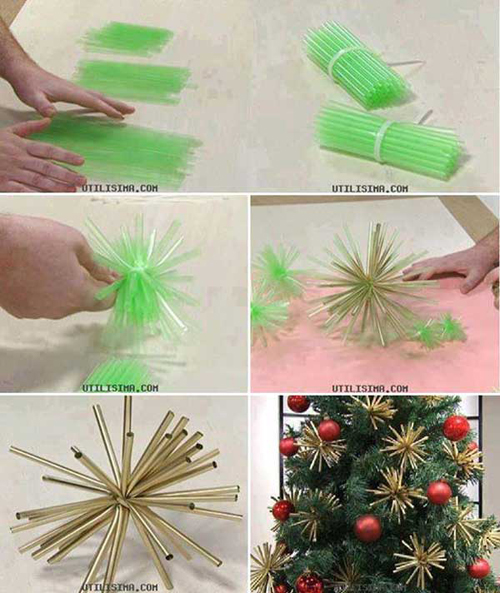 If you're running low on decorations or if you want to jazz up your tree or house, these simple sparkles will make it pop.
Ad. Article continues below.
Items needed: straws, spray paint, zip ties
Instructions: Cut your straws, so they are about 20cm long. Collect in a bunch and secure zip tie around middle. Pull the zip tie tightly and splay out the straw ends. Spray paint your favourite colour and let dry.
12. Miniature scene centrepiece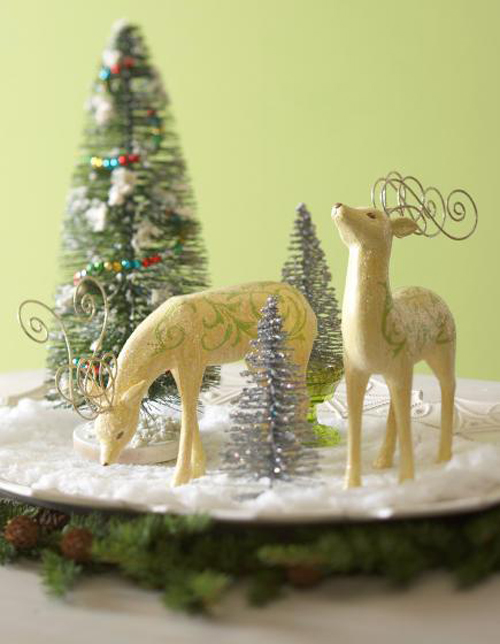 This centrepiece can be changed up to represent your personality or style
Ad. Article continues below.
Items needed: plastic animals, tiny trees, fake snow
Instructions: Arrange any way you like on plain plate!
What's your favourite Christmas decoration you've made? How did you make it? Tell us below!