Lovesick George Clooney gushes about to-die-for wife Amal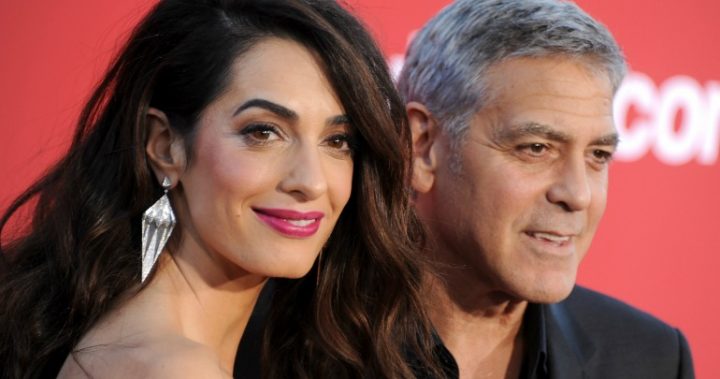 Babies often mean the romance leaves a marriage, and two at one time possibly more so.
But that's clearly not the case for George and Amal Clooney, whose twins were born in June. In a promotional clip from George's upcoming appearance on David Letterman's US talkshow My Next Guest Needs No Introduction, the actor gushed about his love for his lawyer wife.
"I met someone who I would absolutely trade my life for," he reportedly said of 40-year-old Amal. "I met someone, who, her life meant more to me than my life. I had never had that experience before." Now, he said, that was a feeling he also had for son Alexander and daughter Ella.
As if that wasn't enough, the actor also praised Amal's "wonderful" skills as a mother.
"She is sort of this remarkable human being and now mother, which is something I suppose you should assume she would be wonderful at as well, but when you see it in person, it makes you feel incredibly proud but also incredibly small," he reportedly told veteran talkshow host Letterman on the Netflix show.
Ad. Article continues below.
Amal Clooney certainly does have an impressive resume, having studied at the prestigious Oxford University and worked a a human rights lawyer on United Nations tribunals. George's comments, however, may sting a little for his ex-wife Talia Balsam, who no doubt had assumed the actor felt the same way about her were they were married.
It's probably no surprise that George feels strongly about his new wife, though, given that he was a committed bachelor before they married, even going so far as to bet big money with friends Nicole Kidman and Michelle Pfeiffer that he would never marry again. 
But the love-fest was too much for some readers, who were quick to point out that there was little apparently amazing about holding down a job while also being a mother, particularly given the staff that the Clooney's are likely able to hire.
"It's so weird how these celebs think they or their partners are performing a super human feat, when people have been having children successfully for how many years?" one Daily Mail reader pointed out, while another said, "Actually ordinary women without any support or wealth or in conflicted or problematic lives etc are saints. These celebrities with nannies and money to guarantee without future problems need to just shut up about motherhood".
Do you think children strengthen a couple's love, or do they take some of the romance from a partnership?