Internet divided over mum who charges family for Christmas dinner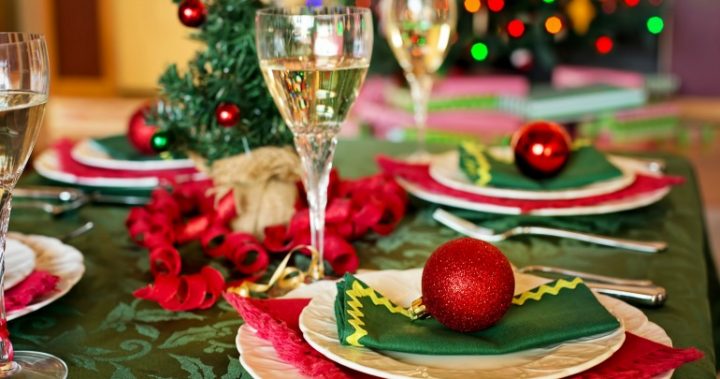 There's no denying that Christmas is an expensive time of the year.
By the time you've bought your tree and decorations, sent your Christmas cards, purchased your gifts and wrapped them, many people dread the Christmas dinner shop.
But one mother in the UK has come up with a clever way of saving some cash at Christmas. It's not for everyone, though!
Appearing on popular British morning show This Morning, 33-year-old Gemma Andrews said that she charges her guests to attend Christmas dinner at her house.
When asked by host Holly Willoughby why she does it, the mother-of-four said it was because she'd been let down by guests in the past and didn't want to bear the expense any longer.
Ad. Article continues below.
"I charge the adults £30 [A$53, U$40]. I don't charge for children and some families have four, five, six children that come to our house," she said. "That's because the very first year I opened my house to everybody, I got let down by five people, leaving me out of pocket."
If you're probably wondering why she didn't ask her family to bring their own dish of food, Andrews said she tried it and it didn't work.
"The year after I tried bring a dish. Come to Christmas Eve, people were like, 'Awww, I forgot to get it'. Then Christmas Eve I'm running around trying to find a bag of prawns."
She admitted that the ordeal left her feeling stressed and dismissed claims by host Phillip Schofield that she was simply running a business. She also said that she didn't force anyone to pay if they didn't want to.
Ad. Article continues below.
"They don't have to come," she said. "The people that come are my grandparents-in-law every year without fail. If they didn't come they'd be sat at home on their own.
"They pay in November. It comes out of November's pay packet for them, so they don't have to think about Christmas money in December."
She said that even her ex-husband and his family showed up for Christmas and were willing to pay.
But Aussie comedian Kathy Lette, who was on the show at the same time, was horrified that Andrews' got her family to pay to attend Christmas lunch, calling the festive season a time for giving and not for financial matters.=
People flocked to social media with their views on the matter.
Ad. Article continues below.
One person said: "I wouldn't personally charge but if times are hard it makes sense for everyone to put some money in and split the costs between them."
Another person added: "My mum 72 and they always about 15 of us that go there for Xmas dinner. We all give her for money to put toward food why not we all earning and she on a pension. Why should she pay for everything?"
A third comment read: "Good on her! Why should be foot the bill alone for that many people every single year?"
Others didn't agree and thought it was out of line for someone to demand money from their guests.
One viewer wrote: "I would never dream of charging our children or grandchildren to come for Xmas dinner. Our eldest daughter and 2 granddaughters turn up on Xmas Eve and don't leave until boxing day, they have done that for the past 10 years, everything they need or want while in our home they can have."
Another added: "I don't have family who come to see me and my kids, I think you should just be grateful you have a family to come over to spend time with you at Christmas, I would love to have a house full of family around at Christmas, but it is just me and my kids. I treasure that every year."
What do you think? Is it acceptable to charge family members to attend Christmas dinner or is it out of line? How does your family share the cost of Christmas?