Grandparents…. Do they make us who we are?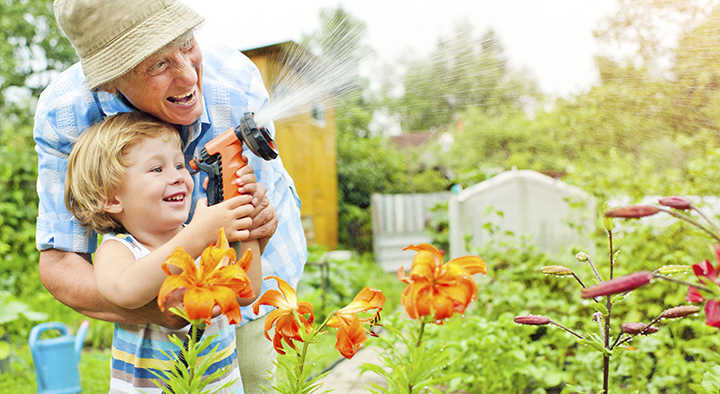 My grandparents are, quite frankly, a huge part of the reason that I am who I am. Even though they are no longer with us, and haven't been for a long time, their legacy lives on this Grandparents' Day and every day I'd like to think. Do you feel the same way about your grandparents? And what do you do so that your grandchildren are sitting here in 20 years time saying the same things?
My parents have slipped elegantly into the roles of grandparents of my children since then, finding their own places and drawing on the examples that were set for them many years before. My father talks a lot about being a good grandfather and actively contributing to the kids' lives while they are young. I know he watched actively when I was young and my grandma and grandpa were a major anchor of our life. Yet today he has formed his own role of "modern grandfather" showing the children in our family a side to him that perhaps we never saw growing up. He's clearly getting as much out of being a grandpa and they are out of having one that is so dedicated.
Grandparents play what I believe is one of the most important roles in a child's life growing up, outside their parents of course… If they step properly into the role, they can be the matriarch or patriarch (or both) representing the leadership of a family, much like a CEO. They are the people that bring the family together when others are too busy. They are the foundation of all family values, and perpetuators of all the good family traditions. And, if they're a little progressive, they can be the kickstarters of new traditions too.
Ad. Article continues below.
Without my grandmother I possibly would never have learned to bake a Christmas pudding, or set the Christmas table in the way "our family" does it. I might never have learned to make an amazing omelette, or even to iron my own clothes, which my grandmother painstakingly taught me from the age of 8 while my brothers watched on.
Without my grandfather I suspect wouldn't have an appreciation for politics, debate and education. He spent many years teaching me to spell when my parents were busy juggling the three kids and paying the mortgage. And he urged me on at every corner of life to keep seeking answers and learning.
But I also know that being the "ideal grandparent" is a very difficult thing. Families are full of expectations. Some want the grandparents to be their daily babysitters, and resent them for not being permanently accessible to them; others don't have such good relationships that they could even contemplate such closeness.
There was certainly an era when my parents had to "decide" what kind of grandparent they wanted to be, and choose to be accessible, available or not so much. Some chose to be more involved than others, and now, 10 years on, everyone seems to have settled into the grandparent role they want to have… including the grandkids.
So today, let's chat about what our grandparents taught us about life… and what you do to leave your own legacy in your family? How has your role as Grandparent formed over time?