Good parenting or PC gone mad? Pink raising kids gender-neutral
She's one of the biggest pop stars on the planet and singer Pink has her own rules when it comes to raising her children.
While she's set to spend months in Australia entertaining thousands of adoring fans next year as part of her World Tour, the singer has opened up about her style of parenting.
The 38-year-old, whose real name is Alecia Beth Moore, recently suggested that she isn't raising her kids with the gender they were born.
She has a daughter, Willow Sage, and a son, Jameson moon, but said that she doesn't believe in restricting her kids with their genetic gender. 
Ad. Article continues below.
"We are a very label-less household," News.com.au reports the singer telling People.
"Last week Willow told me she is going to marry an African woman. I was like: 'Great, can you teach me how to make African food?'
"And she's like: 'Sure Mama, and we are going to live with you while our house is getting ready.'"
The 'What About Us' singer also encouraged more gender-neutral bathrooms at schools: "I was in a school and the bathroom outside the kindergarten said: 'Gender Neutral – anybody', and it was a drawing of many different shapes.
Ad. Article continues below.
"I took a picture of it and I wrote: 'Progress'. I thought that was so awesome. I love that kids are having this conversation."
The singer and her family famously wore suits at the VMA awards earlier this year, where Pink gave a powerful speech about her daughter.
While accepting an award, she explained to the crowd how Willow had been bullied for looking like a boy and referred to herself as "the ugliest girl I know".
Ad. Article continues below.
Pink explained the conversation to the audience: "'Well what do you think I look like?' And she said, 'Well you're beautiful.' And I was like, 'Well, thanks. But when people make fun of me, that's what they use. They say I look like a boy or I'm too masculine or I have too many opinions, my body is too strong.'
"'Baby girl, we don't change. We take the gravel and the shell and we make a pearl. And we help other people to change so they can see more kinds of beauty.'"
The singer isn't the only one introducing her children to this new way of thinking.
More parents across the country are encouraging their children to break away from gender norms and to do what makes them feel most comfortable.
Ad. Article continues below.
Read more: A big retailer to go gender neutral… Is it political correctness gone mad?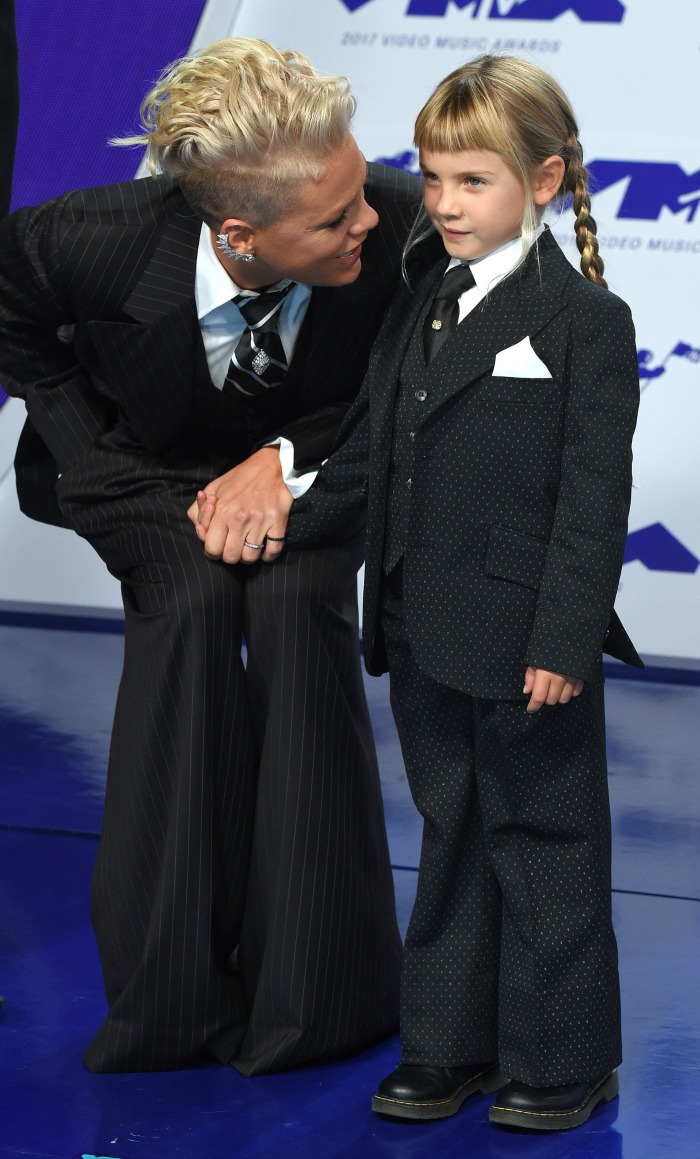 Back in 2015, Target in the US even suggested they were going to stop using gender labels on their products for children.
Ad. Article continues below.
"Guests have pointed out in some departments like Toys, Home or Entertainment, suggesting products by gender is unnecessary,' the retailer said at the time in a statement.
They added that they didn't want their shoppers to feel "frustrated" or "limited" by the presentation of their products.
What do you think? Should more parents be embracing Pink's method of parenting or should they stick to the traditional ways of bringing up a child?