Geena Davis shares personal experience with dementia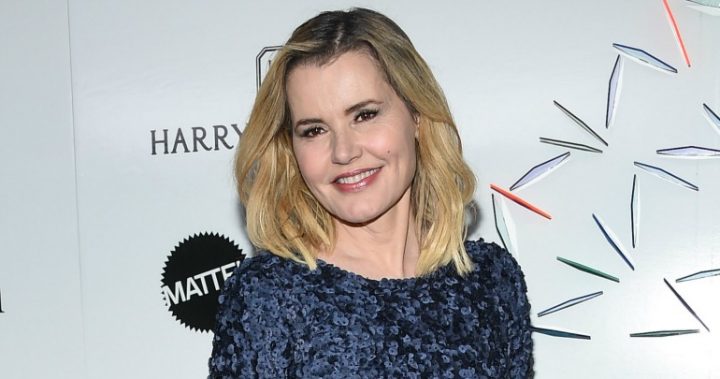 Geena Davis has used her own experiences with dementia for her latest movie role.
In the movie Marjorie Prime, Davis's character acquires a hologram of her mother Marjorie's deceased husband, that has been programmed with so much information about him, he seems real. Marjorie has dementia. A synopsis of the movie asks 'What would we remember, and what would we forget, if given the chance'?
Davis' own mother had Alzheimer's disease, which is why she found the topic fascinating. In the movie her character is skeptical about the bond her mother has with the hologram, but there is hope it will give her comfort and slow her decline.
The 61-year-old star of Thelma and Louise and The Long Kiss Goodnight told Elle.com that the topic was very personal and also fascinating, about how we remember things and about losing memories, after the experience of losing a loved one 'in dribs and drabs', as she also explained to Vulture.Com.
"I don't generally have a problem with taking [a project] home with me, but it certainly caused me to think about my own life maybe more than any other movies I've done," she said, reports Elle.com.
Ad. Article continues below.
She's also confessed she's found it harder to get roles as she gets older. 
"You'd see me in them if I got them," Davis says. "I've been very fortunate and I've had some incredible parts. And for a while there, I felt like I was sucking up all the good female parts, getting to do some really special and unusual things. But it's true what they say: Parts get fewer and less good the older you get, particularly for women.
"I haven't run out of money, so I haven't had to take parts I didn't like or feel were challenging in some way…. I still hold out for those, but they get fewer and farther between."
Davis stars in Marjorie Prime with Lois Smith, known for roles in East of Eden, Fried Green Tomatoes and True Blood, and they are both being talked about as Oscar contenders. 
Smith, aged 86, said the show also brought memories of her father. Although he lived to be 95 she said there were things she still forgot to ask him, and now they will never be known, she told Deadline.com. 
Have you had experience with dementia in your family? Can you relate to the ideas in this movie?