Grandma-to-be's priceless reaction to pregnancy announcement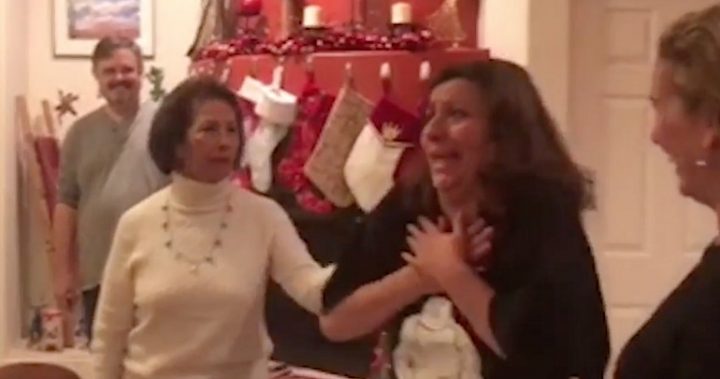 Becoming a grandparent is one of the most exciting moments life can bring.
In some cases, people are aware that their children are trying for a baby, while others are completely shocked by the news. For American mum-to-be Tanya Carlson, she knew all too well that her mother would be delighted by the news.
Over Christmas, she flew from Chicago to Arizona to surprise her family with the announcement that she was expecting her first child. In a clip uploaded to the internet, it looks like Tanya was very sneaky about the big reveal.
She gathers her family in the living room for what they think is going to be a family photo. As they pose together, Tanya can be heard saying: "Ready? One, two, three! I'm pregnant!"
Ad. Article continues below.
At first, her mother, Hope, isn't too sure what's happening. "Wait, what?" she asks, still clinging onto her partner for the photo. She even swears at her daughter, thinking it's all a cruel prank.
"You're such an a******," she shouts. "No you're not. Are you?" It then starts to sink in that she's finally going to become a grandmother and she can't contain her excitement. She begins flapping her arms up and down and even pointed out that "she knew it" because her daughter had been complaining of sore nipples.
With Hope still in disbelief, Tanya eventually lets her listen to the heartbeat of the baby and informs her that she's 13 weeks along in the pregnancy. Her mum was shaking with excitement before hearing the heartbeat and can repeatedly be heard saying, "No, I'm not ready."
She then proceeds to let out a number of strange noises as she continues to frantically wave her arms around and shower her daughter with love.
Speaking of the video, Tanya explained that her mother has always been one to show her emotions and that was part of the reason why she wanted to reveal the news to Hope in this way. "My mum has always been known to have a dramatic flair and is very expressive," Tanya told Daily Mail. "I felt that any reaction was going to be good but I didn't know it would be this amazing."
Ad. Article continues below.
She also suggested that becoming a grandmother was one of Hope's biggest dreams in life, so it was difficult for her to process what was really happening. Still, she said that it was a moment she would hold close to her heart forever.
Here's hoping there's a camera at the ready when Hope meets her grandchild for the first time.
What do you think of Hope's reaction? When did you first find out you were becoming a grandparent? How did you react?
---
With Facebook removing news sites from your feeds we ask that you sign up for Starts at 60's emailers here. And to keep us on your wall, join some of our new Facebook groups and clubs:

News Junkies Club – Australia
News Junkies Club – USA 

See news on the change and links to all our other clubs and groups here.