Couple's bizarre wedding venue gets Australia talking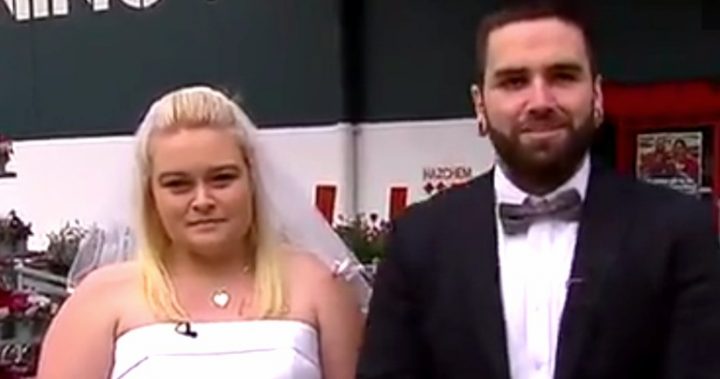 With all the talk about how much weddings cost these days one Australian couple bucked the trend in spectacularly cheap fashion. Once the ceremony was over they headed straight to the Bunnings to enjoy a sausage sizzle for their after party.
Photos of the newlyweds, Jordan and Chantelle Wilson enjoying their snags soon went viral.
WATCH | Sydney couple Jordan & Chantal Wilson love Bunning's snags so much that they had their wedding reception at the hardware store! pic.twitter.com/KuiIt5yRM1

— Sunrise (@sunriseon7) August 28, 2017
With one of the highest costs of a wedding being the food, alcohol and venue, there's lots to be saved if you try something different.
Ad. Article continues below.
How much do people really spend on their weddings? In the US the average is estimated to be around $US32,000 ($AUD 4,350).
It's not too far different in Australia with the average costs $AUD36,200. Broken down, it's around $18,000 on a food, alcohol and the venue with $4,000 on clothing and accessories, another $4,000 on photography and then other costs come in for entertainment, flowers and decorations and things like car hire, hair and make-up and stationery. The least amount spent is on the actual ceremony, coming in at under $1000.
One couple in Moscow are believed to have spent a billions dollars on their big day last year, splashing out on live performances by Jennifer Lopez and Enrique Iglesias. With the grooms father an oil tycoon worth over $US6.2 billion ($AUD 7.82 billion) it's not likely to have broken the bank much.
It's no surprise the wedding of Donald Trump to Melania cost a pretty penny too. Their big day in 2005 included Billy Joel playing a few tunes while guests dined on caviar, lobster and truffles. Melania's dress was a showstopper, taking an estimated 1,000 to make, with hand-stitched crystal rhinestones and pearls. 
Royal weddings are obviously going to be up there when it comes to finances. The weddings of Prince William and Kate Middleton and Lady Diana and Prince Charles are up there as the most costly.
Ad. Article continues below.
Kim Kardashian and Kanye West were happy to continue their spending ways to tie the knot in 2014. Hundreds of guests were flown to Florence for the ceremony. 
How did you save money for your wedding?