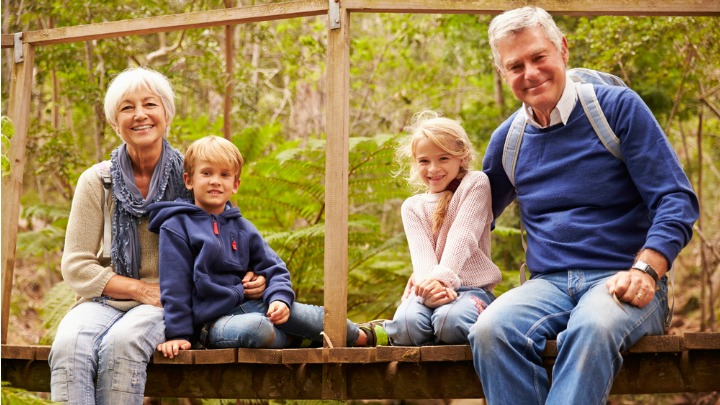 Whether you're a nanna, a pop, a grandma or a grandpa, the relationship between a grandparent and grandchild is different to that of a parent and child.
Grandparents have always played an important role in family life, but over the last twenty years, many have had increased responsibility for their grandchildren due to changes and issues in families and society. The first major change is the provision of child care. Grandparents, mostly grandmothers, are the major providers of childcare for preschool children, particularly for babies and toddlers, when both their parents are in the workforce.
Grandparents also help parents with school-age children by picking them up from school, and by caring for them during school vacations. The second change for grandparents, and the one which is associated with more difficult issues in their own lives, is when they have to take over full responsibility for bringing up grandchildren because their parents are unable to do so, often because of drug or alcohol abuse.
As part of the older generation, grandparents are the role models. They are the bearers of family history and values that can be shared with younger generations. They can lighten the load of daily life by offering loving and supportive parenting to their children, grandchildren, and great grandchildren.
A study by Boston College researchers found that emotionally close ties between grandparents and adult grandchildren reduced depressive symptoms in both groups. The study, published online last year in the journal The Gerontologist, included 374 grandparents and 356 adult grandchildren who were taking part in a larger study. The researchers looked at data collected over a 19-year period.
Close grandparent-grandchild relationships are often a marker of strong family ties overall, but these intergenerational bonds also come with their own distinctive benefits, said lead author Sara Moorman, an associate professor of sociology at Boston College. As people are living longer, these bonds are becoming even more important.
Susan, a grandma to two beautiful boys, said she loves being able to do all the fun things and looks forward to doing the same with her latest addition to the family – little Sebastian.  "You've done it all before with your own children, but now the responsibility is different. As a grandparent you get the fun part!" Susan said. "Going to the park, doing new things with them they've never experienced before and seeing the awe on their little faces is wonderful," she said.
Everyone loves good memories, especially when they're with the grandkids! What is your favourite thing about being a grandparent?
Comments