Battle over television tycoon Reg Grundy's estate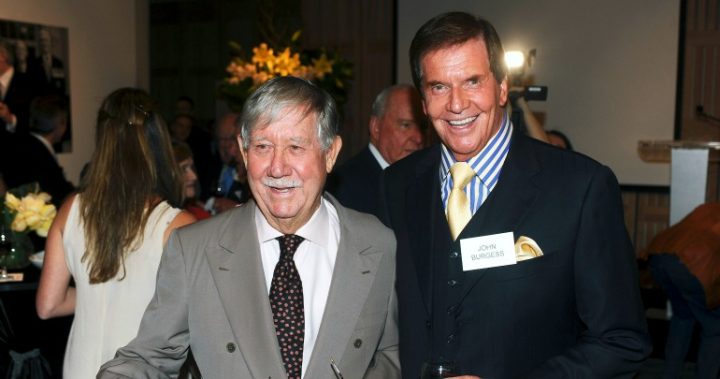 His was the name we saw at the end of many of our favourite television shows; Reg Grundy.
He was the television tycoon responsible for shows like Neighbours, Perfect Match, Sale of the Century and Wheel of Fortune. His production company also brought us Prisoner, Sons and Daughters and The Young Doctors.
Ad. Article continues below.
But it seems money can't buy love, and that was the case in the relationship between Grundy and his daughter. According to wife Joy, reports The Daily Telegraph, Robin Kim Grundy, known as Viola La Valette, refused to see her father and cut off all contact for 22 years before he died last year.
Read more: Television legend Reg Grundy dies aged 92.
Now there's a legal battle going on over his estate with second wife Joy defending a claim from La Valette. La Valette was the child of Reg and his first wife Lola Powell, whom he was briefly married to in the 1950s. 
Ad. Article continues below.
Joy said Grundy had always supported his daughter, and allowed her a glamorous lifestyle where she never had to work, and could live in five-star hotels. He left her an 'appropriate and just amount' in his will, $320,000 a year, but that's not enough according to La Valette. 
She's seeking tens of millions of dollars in addition to the existing annuity to support her lifestyle, which has included annual cosmetic procedures, five-star global travel and hotels and ballet lessons, The Daily Telegraph reports. 
Ad. Article continues below.
After a court hearing on Monday Joy revealed private details of their life to protect his reputation, they reported. 
"His daughter had rejected him and denied him contact," Mrs Grundy said. "Reg was a very private gentleman. The great sadness he carried was the loss of his daughter."
Mr Grundy bought his daughter apartments in Sydney's Bellevue Hill and Lavender Bay and Beverly Hills in Los Angeles. He transferred his mother's Double Bay apartment to his daughter and in 1995 "to his shock" she gave it to her milliner, Mrs Grundy said.
"There was never any tension over money," she said. "What ever she desired, we gave her.
"I think Reg loved her, ­always. But perhaps in the last 10 years he was numb. He accepted she had irretrievably destroyed the relationship. He was heartbroken."
Have you ever had to make a claim against a will? Would you?
Important information: The information provided on this website is of a general nature and for information purposes only. It does not take into account your objectives, financial situation or needs. It is not financial product advice and must not be relied upon as such. Before making any financial decision you should determine whether the information is appropriate in terms of your particular circumstances and seek advice from an independent licensed financial services professional.