Are second marriages later in life easier than younger ones?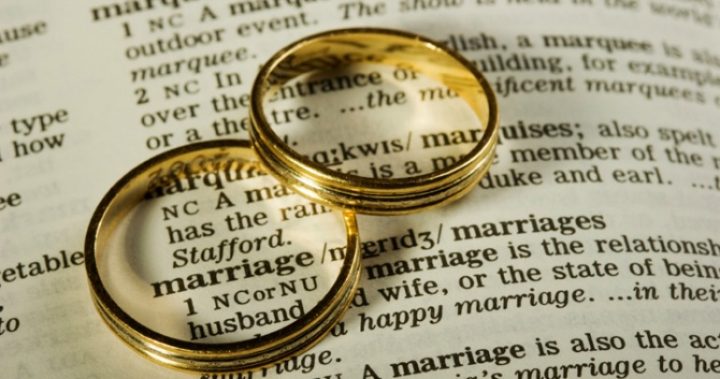 Choosing to spend the rest of your life with another person is a huge commitment at any age.
And while some couples do just that, others go on to marry for a second time, whether it be following a divorce, or the tragic death of a partner.
But while second marriages are complicated enough with young children, the problems don't necessarily stop when they become adults.
According to Psychology Today, research has found two key factors regularly contributing to second marriage break-ups – money and children – whether that be at a younger age, or when step-children have grown up and moved out.
Obvious factors when marrying again at a young age include custody battles, child support, and of course younger children feeling confused in the middle of it.
Ad. Article continues below.
But do these issues disappear as children get older?
Read more: Making your second marriage work
According to the same study, the answer is no. In fact, second marriages later in life can still face the same two issues – money and children.
Marcia Watts, Relationship Psychotherapist Counsellor for Brisbane-based counselling service Transform2Lead, says: "A second marriage later in life has very different issues to one at a younger age, but they're still just as important."
For example, the possible death of one parent may make accepting a new step-parent at any age difficult, especially if it comes soon after.
Ad. Article continues below.
Watts says: "Anything like grief over a divorce or the loss of a parent can get lost when children are younger in the hustle and bustle of life. But often when children grow up, and they start focusing on their own marriages, it can come out again."
However, Watts believes a second marriage later in life can offer opportunities that one at a younger age may not.
"It is another opportunity to heal that grief. You're in a different space in life, and you can focus more on your relationship and resolve old wounds.
"It's a chance to say, 'we survived all of that, and we are still here'. Perhaps you have grandchildren now, whether they're your child's or you step-child's, and you can watch them grow up together."
For the adult step-children themselves, she says: "It's an opportunity to get to know your parent's partner more, and form a friendly bond with them. Now, you have a choice about the kind of relationship you want, you can set your own boundaries and own that relationship."
Ad. Article continues below.
Research carried out by Watts suggests the first five years of a second marriage are the most vulnerable, with the chance of splitting up as high as 65 per cent. However, that figure drops dramatically to just 20% after that time.
The figure can relate to a second marriage at a younger age, or one later in life.
Offering advice to couples marrying again once their children are grown up, Watts says: "It's critical to communicate with both your partner and adult step-children about any concerns or plans you have.
"Things like inheritance and retirement plans can cause friction, so consulting a family lawyer is key at an early stage, getting plans and discussions out in the open straight away."
Read more: What getting married at 60 is really like
Ad. Article continues below.
Phoebe Wallish, Executive Officer of Stepfamilies Australia also gave some handy advice for step-families.
"Parents need to bring their children (whether children or adults) along for the journey with open lines of communication," she explained.
"Parents should hold onto similar traditions they have always done (e.g. how they celebrate Christmas or birthdays) and only introduce new traditions slowly together with the whole stepfamily with lots of communication around how these new traditions could work ensuring to get input from everyone."
And Marriage and family therapist Dana Backstrom looks at second marriages with older step-children.
Offering guidance to people remarrying later in life, Backstrom points out six key pieces of advice:
Ad. Article continues below.
Acknowledge the feelings of adult stepchildren
Understand that adult children's resistance to a stepparent is not personal
Maintain open, honest communication
Give the parent and their children some "alone time"
Reassure stepchildren that the step-family is not a replacement for the first family
Make sure you and your spouse work as a team.
Meanwhile she offers the following advice to adult step-children who are struggling with a new step-parent:
Acknowledge your parent's feelings and desires
Make an effort to get to know your new stepparent
Try to be inclusive
Distinguish between what you can and can't control
Maintain open, honest communication
Accept your parent's financial assets belong to them
Find reasons to celebrate your parent's marriage.
Have you remarried and had adult step-children, either in the past or now? Did you experience any problems? How did you overcome them?