Qantas return passengers to the 1970s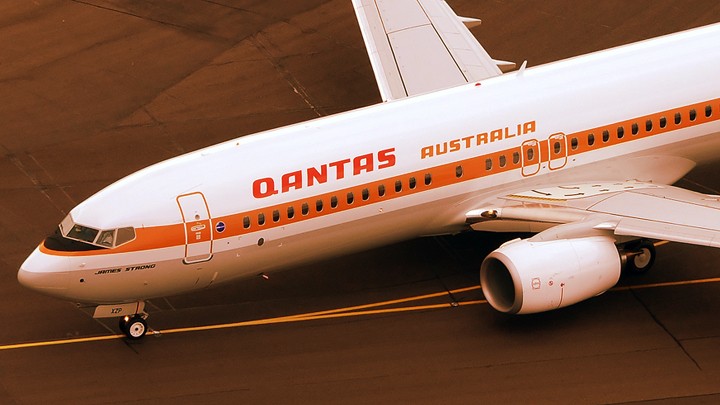 Remember the '70s Qantas look? That distinctive orange stripe is set to make a comeback.
Qantas has lovingly recreated this era with the "Retro Roo", a plane repainted in their former signature orange – and will now be adding a second to the lineup.
But they took this nostalgia even further over the weekend, with a 70s themed charity flight that aimed to lovingly recreate the entire experience.
Ad. Article continues below.
This charity flight touched down in Longreach to help raise funds and spread awareness of droughts in western Queensland.
Passengers – who payed a whopping (but appropriate) $737 for the privilege via in-flight charity auctions — were encouraged to wear their best '70s fashion.
Ad. Article continues below.
To add to the nostalgia, Music legend Leo Sayer played to passengers before the flight. On arrival in Longreach, they got to Little River Band's Glenn Shorrock.
"For city folk, it is a real reality check to come and see just how dry it is," said Quantaslink Group executive John Gissing told ABC News.
"We think we can do a lot to energise people from the cities and from right around Australia to come and visit this great part of the world".
"That's the best way they can contribute to assisting during this time of drought".
Ad. Article continues below.
It was a particularly emotional experience for the pilots, who told the ABC both their grandfathers had flown with Qantas at the beginning.
"We taxied in and saw the Qantas hangar and said this is where it all started – here and in Winton and Cloncurry," said Captain Charles Crowther said.
Passenger Derek Heiden said he regretted the decision to wear polyester pants and green glitter shoes into the dry outback heat, but that the chance to see drought-afflicted areas close-up had changed him.
""You hear it in the news, but you don't really appreciate how bad it is until you come out here and see it", he said.
Would you ride the Retro Roo? Does this recreation live up to your memories of the real 70s Qantas?