Proof that soon you'll be driving an SUV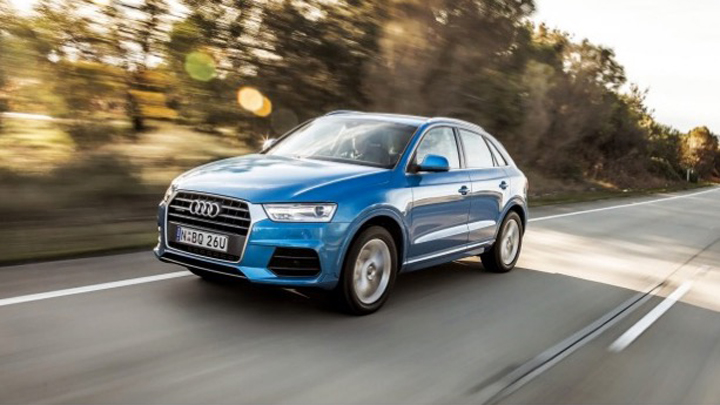 If you're not driving an SUV – sports utility vehicle – then you soon will be.
On current trends, 2017 will be the first year in which more SUVs will be sold than sedans and hatchbacks.
Very few of them ever venture off-road but people love them for their high ride height and attendant visibility and – let's face it – because the European SUV has become a motoring fashion statement.
You drive a Euro sedan? Oh, you poor dear.
One of the most popular of all European SUVs is Audi's Q3 with about 40 per cent of the market segment.
Ad. Article continues below.
They are popular with empty-nesters because they combine prestige motoring with a size that is user friendly in apartment car parks, offer excellent performance and fuel economy and the practicality of a wagon style body. Fold the rear seats and the luggage capacity expands from 460 litres to 1365 litres.
Audi has just updated its Q3, restyling it with a bigger grille and more significantly, making a reversing camera standard on all models.
Other once optional equipment to become standard includes xenon lamps, dual-zone air conditioning, leather trim for the seats, cruise control and tyre-pressure warning, all of which are now fitted to the base model car.
Oh yes, and there's a tent for those who really want to experience the great outdoors.
It's not standard but has been designed to be anchored to the Q3. It's hardly cheap at a tad over $3K and you can probably buy a decent tent for less than a third of that price but it won't be designed to attach to your Q3 and it won't be an Audi tent!
Ad. Article continues below.
Prices for the entry level model begin at $42,900 which buys the front wheel drive 1.4 litre petrol engine with the top of the range being the all wheel drive 2 litre diesel at $56,900.
The pursuit of ever improving fuel economy has become a crusade driven by government regulation and backyard barbecue conversations.
If you buy the base model Q3, then in between sips of sauv blanc around the barbie, you can boast that your SUV has cylinder-on-demand technology.
This means that two of its four cylinders will idle when cruising, improving economy by up to 10 per cent which translates to about 5.8 litres per 100km.
A diesel powered Q3 will return similar economy but the cheapest diesel costs $5000 more than the base petrol model.
Ad. Article continues below.
True, you get all wheel drive with the diesel instead of front wheel drive and a seven speed instead of six speed automatic transmission, but if it was my money I was spending,
I'd save the $5000 and opt for the petrol model.
If you're planning trips to the snow then all wheel drive, Quattro in Audi-speak, make sense but if you skiing days are behind you and the car park at the Noosa Heads Surf Club is as far off-road as you are likely to get, then front wheel drive will do just fine.
On the road, the Q3 delivers a car-like driving experience although the more expensive models with their larger alloy wheels give a harsher ride than the base model with its 17 inch wheels.
The 1.4 litre petrol engine delvers all the performance most people will need, the cabin, like that of all Audis, is classically modern and a quiet, refined environment in which to travel.
Ad. Article continues below.
It boasts an elevated ride height, plenty of room for a travelling couple and is easy to park.
And, of course, there's the option of that tent.
Nuts and Bolts
Audi Q3
From $42,900
Ad. Article continues below.
Economy: 5.8 litres per 100km.
Safety rating: Five star.
Warranty: Three years, unlimited kilometres.
Service Interval: 12 months or every 15,000km.
Engine: 1.4 litre turbo four cylinder using premium unleaded with power of 110kW and torque of 250Nm.