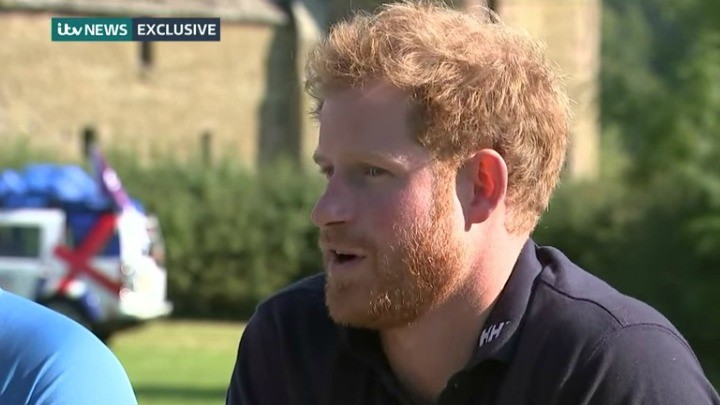 Prince Harry has toured the Invictus Games venue, saying he hopes his mother, Princess Diana, will be 'watching from above'.
The royal also stopped by to offer the Australian team of former soldiers some words of encouragement.
It was the first time Prince Harry had toured the Invictus Games complex in Orlando, Florida and he took great delight in 'revving up' wounded soldiers from 15 nations, including Australia, prior to the commencement of the event on May 8.
Having been on tours of duty himself, the fourth in line to the throne has a true connection with veterans, their sacrifice and their loss. More than 500 injured veterans will take part in various sports including wheelchair basketball, sitting volleyball and indoor rowing.
The newly dubbed 'Prince of Hearts' also posed for pictures with former service members, children and service animals while checking out the United States venue.
Keep up with Prince Harry as he watches early contests at #InvictusGames! https://t.co/jOWnXdZX8U via @PEOPLEroyals pic.twitter.com/ZAgZvOkWWx

— People Magazine (@people) May 7, 2016
Picture proof that Prince Harry is having a magical time in Florida: https://t.co/GS9L23Cd6A pic.twitter.com/D2zXKk6MlB

— E! News (@enews) May 7, 2016
What would Prince Harry's mother, Princess Diana, think of the Invictus Games competition? https://t.co/5vcRcrUpMl pic.twitter.com/H9KMW2Tf8F

— CBS News (@CBSNews) May 7, 2016
"This is an experience, it's an emotional roller coaster, there's not a single point during these games that spectators will sit there feeling sorry for these guys — that is not what this is about," Prince Harry said of the games.
You might recall the Queen getting in on the Invictus Games action with her brilliant shut down of the Obamas recently.
What do you think Princess Diana would think of the Invictus Games competition? Do you think this is an appropriate event for returned members of defence?
Comments