Pricey and Bickmore fight public battle on breastfeeding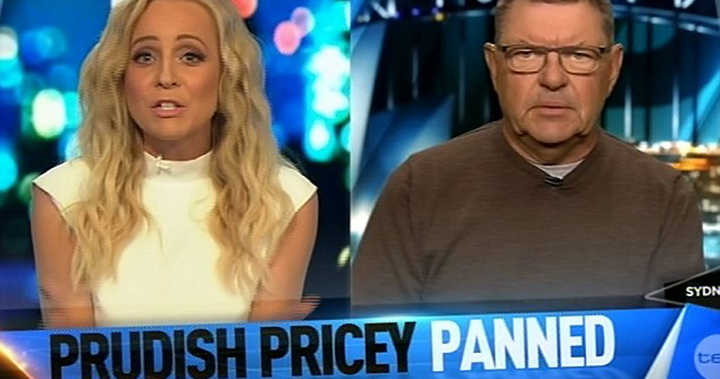 60-year-old 2GB host and "shock jock" Steve Price, who is a regular on the Project and a participant in their media meetings, has publicly conflicted with host and Gold Logie winner Carrie Bickmore on breastfeeding and we want to know what you think. Is breastfeeding something women should be encouraged to do anywhere – walking, sitting, in the workplace, and such – or do you think it should be discreet and focussed activity?
Steve Price tweeted out the below on Tuesday afternoon, and has possibly lived to regret it as he was progressively attacked by the breastfeeding population and his own Twitter followers too, many of whom have used nasty language to describe his thoughtless tweet. And then, as he thought the Twitter world had settled, in his own semi-regular slot on the Project, his seeming friend, Carrie Bickmore attacked. Bickmore, who is a mother-of-two, took offence to the 60-year-old's view that women should breastfeed while sitting down, "Well I look forward sitting on your lap in the meeting next Monday and doing it…"
Price has attempted to justify his tweet saying it was done while walking through the crowded Melbourne Airport with his wife and two daughters. "I think walking through a crowded airport is an unusual place to breastfeed a child".
On the TV, he spoke openly about his own breastfed children. "If my wife and I got off a plane – and we have two daughters, she breastfed both of them – and Wendy said to me "I think I might breastfeed Lucy while we walk to the car", I would say 'Are you insane? Sit down and do it properly'".
But Bickmore was looking for a fight knowing how hard won public breastfeeding have been. "Why do women have to do it discreetly, what is your issue with it?"
Ad. Article continues below.
Price responded to Bickmore's continued attack. "In fact three weeks ago in a production meeting at The Project you were breastfeeding your gorgeous little baby daughter so if I had a problem I might have said something".
Again Bickmore retorted "absolutely but you used the words discreet public breastfeeding OK, which means you clearly think it should be done privately in a room away from you".
"And just for your information, we feed where we want to, not where you want us to".
Steve Price has 12,100 followers and can clearly open the hearts of many Australians. Pitched against Bickmore's 146,000 followers it is unclear who the winner is here.
Discreet public breast feeding no drama but walking through Qantas domestic !!

— Steve Price (@StevePriceMedia) July 14, 2015

 
Do you think Steve Price was out of line, or is Bickmore making too much of his tweet? Share your thoughts today.