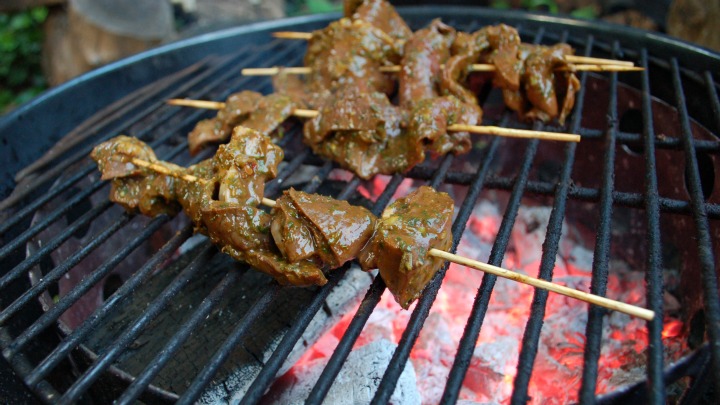 Stumped for ideas for dinner tonight? Try this hearty beef dish for a tasty and simple summer feast!
Serves 4
Ingredients:
Directions:
Soak skewers in a shallow dish of cold water for 30 minutes then drain.
Place beef into a large bowl with garlic, herbs and 1 tablespoon of oil. Toss to coat the beef well. Cover the bowl with cling wrap and place into a fridge for one to four hours, if time permits.
In the meantime, boil potatoes in a saucepan filled with water for about 15 minutes or until they're just tender enough to put a for through. Drain the potatoes and thinly slice them, about 1cm thick pieces.
Next combine the lemon juice, mustard, sugar, remaining 1 1/2 tablespoons oil, and salt and pepper in some for of container, bottle or jar with a lid that you can shake, and shake well. Place the potatoes into a bowl with capsicum, onion, rocket and dressing. Toss lightly to combine.
Remove beef from the fridge and thread into skewers. Preheat a barbecue grill or fry pan on high heat until hot. Reduce heat to medium. Cook skewers, turning, for 4 minutes for medium.
Place skewers on top of potato salad and serve.
—————————————————–
If you'd like to see more recipes from Starts at 60, click here. And if you have a recipe you'd like to share with the Starts at 60 community – we'd love to share it! Submit them to us by completing the form below.
Submit your article here
;
Comments