Pope Francis defeated and embarrassed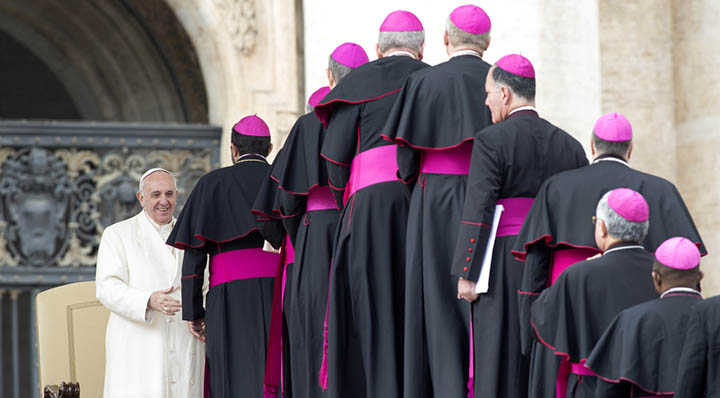 The progressive Pope's liberal views have been dealt a savage blow today by the Catholic Bishops who have withheld their support for one of his primary policy desires and dashed hopes of progress on another.  
Pope Francis has been lobbying hard to give divorcees who have remarried the right to take holy communion and seeking support for homosexual language in the Church.  It shows how tough it is going to be to get the Church to change.  Do you think Pope Francis' progressive views should have more support? 
Catholic Church law forbids divorced Catholics who remarry without an annulment of their first, sacramental marriage to receive Communion unless they abstain from sexual relations in their second unions. Otherwise, the church considers them adulterers.
The Bishops met in what is called a "Synod" about family issues in the Church, having debated the merits of the change of policy significantly throughout the year.  And the report, released today disappoints many of the Church's most progressive.
"The final report of a bishops' meeting on the family, called a synod, omitted any mention of the Communion question, the most fiercely debated topic during five weeks of discussion over the course of a year. Instead, the document called for greater integration of divorced-and-remarried Catholics in the church while 'avoiding every occasion of scandal,' suggesting that such Catholics might be allowed to play a larger role in worship, education and other church activities. Divorced-and-remarried Catholics currently face restrictions on a range of activities, including serving as godparents and performing special roles at Mass." The Wall Street Journal reported.
Whilst the Pope retains unilateral rights to overrule the Synod recommendations, however he would have to do so without a clear demonstration of support which would be unlikely most believe.
Pope Francis went on to speak after the presentation of the report with both hope and irritation, according to the press report, complaining of "conspiracy theories and blinkered viewpoints" and "closed hearts which frequently hide even behind the church's teachings, in order to sit in the chair of Moses and judge, sometimes with superiority and superficiality, difficult cases and wounded families."
Ad. Article continues below.
A statement from Australian Cardinal George Pell, the Vatican's finance chief and a leader of conservatives at the synod, said he was "very pleased" with the report, which he said contained "no doctrinal developments, no doctrinal surprises, no doctrinal backflips."
The synod also discussed the possibility of more sensitive language toward gay Catholics, reported The Australian nbut it appears there are significantly opposing fronts in the Church that cannot at this time be bridged.
"What Nazi-fascism and communism were in the 20th century, Western homosexual and abortion ideologies and Islamic fanaticism are today," said Cardinal Robert Sarah of Guinea who opposes homosexual inclusion.
The document defends the dignity of such persons against "unjust discrimination" but also quotes an earlier Vatican document stating that "there are absolutely no grounds for considering homosexual unions to be in any way similar or even remotely analogous to God's plan for marriage and family."
Homosexuality is still "too delicate a subject" for bishops in certain countries, Cardinal Schönborn said.
Do you think the Church needs to embrace these two big issues of including divorcees, and gays to make itself more attractive in the next generation or should it stick to the policies that it has evolved with today? Do you think Catholicism is losing touch?