PM won't let frontbenchers on Q&A - yet allows backbencher to front 'anti-Islamisation' rally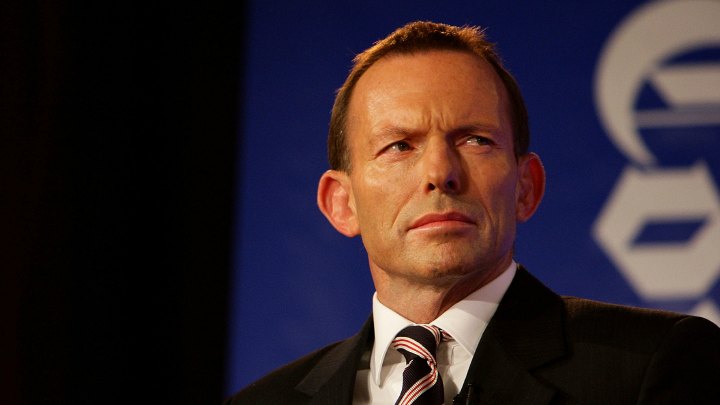 We were shocked and saddened by the distressing images over the weekend of the Reclaim Australia protest in Melbourne, and those held across the country on Sunday.
While Reclaim Australia does not officially identify itself as anti-Islam, its vocal supporters include openly extremist factions, up to and including swastika-tattooed neo-Nazis. And it begs an important question: is this a group Tony Abbott should allow his ministers to support?
In Mackay, Nationals MP George Christensen spoke at his local rally. While he was aware of the group's extremist ties, he chose to stand behind the organisation's core principles.
On Friday, Mr Christensen wrote in The Guardian, "Hell will freeze over before I pull out of Reclaim Australia rally."
He assured readers "there will be no skinheads turning up at the Mackay rally", but "if there were I would tell them where to go".
Ad. Article continues below.
On Sunday, 300 people showed up at the peaceful rally and Mr Christensen spoke.
He said, "We would be foolishly naive to think that we are not at war with radical Islam."
"Our voice says we will not surrender, we will not sit idly by and watch the Australian culture and the Australian lifestyle that we love, and that is envied around the world … we are not going to see that surrendered and handed over to those who hate us for who we are and what we stand for.
"It is extremism of any kind that we must guard against, it's ordinary folk like you people here today who must speak up.
"It is we who must not give in to the bullying and the intimidation and speak without fear to our friends and family, our neighbours, people all through our life."
Ad. Article continues below.
Federal MP George Christensen tells #ReclaimAustralia rally we're "at war with radical Islam" http://t.co/tXrsQLByU1 pic.twitter.com/FbAPwPfcPg

— ABC News (@abcnews) July 19, 2015
A small group of anti-racism protester attended the rally, with one holding a placard reading: "Shame George shame!"
Last week, Labor immigration spokesperson Richard Marles suggested the Prime Minister should "show some leadership" and "stop a member of his Government from addressing and promoting Reclaim Australia events".
"It is extraordinary that a Government MP will address one of these rallies and that the Prime Minister is allowing it," he said.
Ad. Article continues below.
"Tony Abbott is happy to stop members of his Government from appearing on Q&A, yet he allows Coalition MPs to attend these racist rallies.
"Divisive and inflammatory actions from members of the government undermine efforts to build community harmony. Social inclusion involves concentrating on what brings us together, not whipping up division."
Is there a double standard in the way our government is handling "freedom of speech"? Is Q&A truly more dangerous an influence than Reclaim Australia?
.