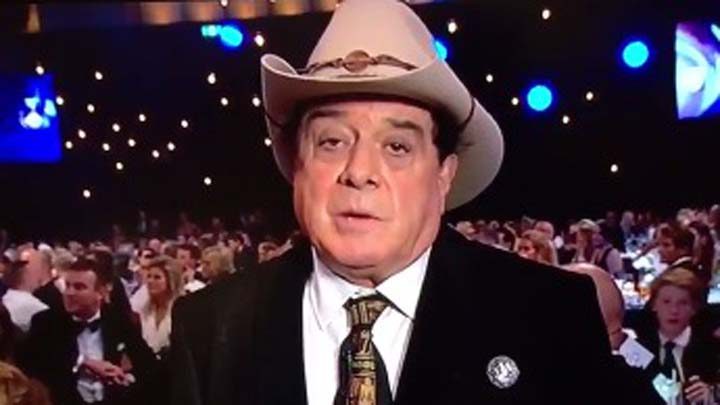 It's been an incredibly difficult few years for Aussie music guru Molly Meldrum with an awful fall from a ladder in 2011, and a fall out of a Thai cab late earlier this year.
He's been keeping a low profile since but on Sunday night, the man we all know and love went along to the TV Week Logie Awards in Melbourne.
He spent the night mingling and talking with guests, a far cry from 2012 when he was unable to accept his Hall of Fame award due to ongoing treatment.
Photos have now emerged of the music legend leaving the Logies in a wheelchair. In true Molly fashion, that didn't stop him from signing autographs and posing for photos with fans.
He dislocated one of his shoulders and fractured several ribs when he slipped while getting out of a taxi in front of his Bangkok hotel in January. Many photos of him during the night showed he put in his best effort and enjoyed every minute of the ceremony to celebrate Australian television, something he is a huge part of.
The 73-year-old had a presenting role at the awards – he introduced singer Delta Goodrem before she took to the sage. The pair are close friends and he detailed how they met and struck up a friendship in his speech.
Take a look at the pics below and tell us, are you a Molly fan?
Actor Craig McLachlan caught up with Molly at the Logies
He still spent time with fans even though he was visibly tired.
interesting Logies 2016: Molly Meldrum leaves the awards in a wheelchair – Daily Mail… https://t.co/Z7LmokinGX https://t.co/p9L0AOGoWu

— Carol Peters (@powerwheelchair) May 9, 2016
Friends forever!
Friends for many years… Pete Smith, Denise Drysdale and of course, Ian Molly Meldrum #TVWEEKLogies pic.twitter.com/IsPVRbKFLr

— Peter Hitchener (@phitchener9) May 8, 2016
The Molly we know and love is still himself
Ad break fun with two Aussie greats, Molly Meldrum and Ray Martin! #TVWEEKLogies pic.twitter.com/f77UNGM1Di

— #TVWEEKmag (@TVWEEKmag) May 8, 2016
His dedication to Delta
I was crying so much I had tears in my mouth @DeltaGoodrem #MollyMeldrum #TVWEEKLogies pic.twitter.com/x2oWtaf9Qh

— Carly Heading (@carlyylalaa) May 8, 2016
Comments