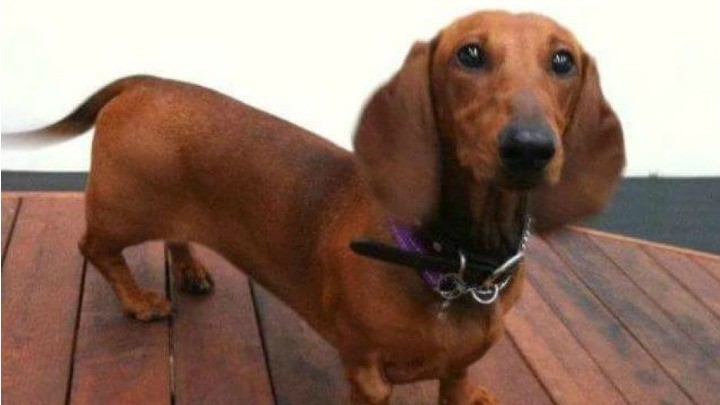 This is Rosie, a true hero who died unnecessarily earlier this month after saving a four-year-old's life. And now her devastated owners have this message for all pet owners to ensure their beloved pooch or puss doesn't meet the same fate.
ABC Melbourne reports that four-year-old dachshund Rosie stepped between a tiger snake and four-year-old Theodore Lewis, saving the boy, but getting bitten herself.
The incident occurred in the Melbourne Suburb of Donvale, less than 20 kilometres from the CBD.
Rosie's owner told the ABC, "Our little dachshund stepped in between our son and the snake. In effect, she's saved his life."
Rosie quickly reacted to the bite, convulsing and vomiting, and Mr Lewis rushed her to his nearest vet, a decision that would cost Rosie her life – it turned out the vet didn't have the anti-venom needed to save Rosie, and the distraught family was sent to their nearest Animal Emergency Centre.
But it was too late – Rosie died on the way there.
Today, Mr Lewis warned all pet owners to take just a minute to find out whether their vet had the anti-venom for snakes in their area.
He said Rosie would probably still be alive had they checked with their vet ahead of time.
"Had we known [the vet] didn't stock anti-venom, we would have headed straight to animal emergency."
Mr Lewis' wife wrote about the experience on Facebook and found that many people simply assumed their vet would carry the anti-venom.
Mr Lewis urged listeners of the show to take the time to make sure, rather than assuming their pet could be saved.
"It takes a couple of minutes — call your vet," Mr Lewis said.
Are snakes a threat in your area? Have you checked with your vet to find out if they carry the life-saving treatment in the case of a snake-bite? 
Comments