Personalities clash as Andrew Bolt and Miranda Devine come to verbal blows on-air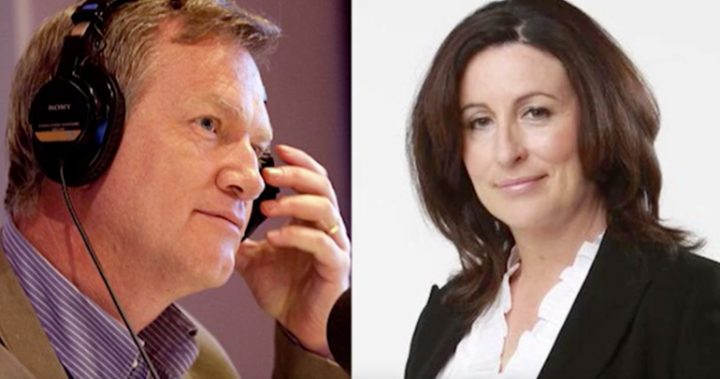 In science class as a kid, you are shown what happens when you put vinegar to bi-carb soda.  The reaction is not dissimilar than when you put two strong personalities on the radio together.
This morning many listeners were shocked to hear the on-air battle between Andrew Bolt and Miranda Devine.  Devine is filling in for regular Steve Price who is in the African jungle on I'm a Celebrity…Get Me Out Of Here!.
When Bolt called in for his regular segment, the topics changed to Cory Bernardi which set in motions a heated argument.  The argument led to a disagreement about polls and former Prime Minister Tony Abbott.
At one point, talking about Abbott, Bolt said, "It seems to me you're invested … You'd rather crush Tony Abbott than save the Liberals. You've got to get over that. Tony Abbott made terrible mistakes, and if you're trying to get me to say that Tony Abbott didn't, you'll fail."
To this Devine responded, "I'm not trying to get you to say anything, Andrew, I'm just telling the truth as it is. You're citing polls when they're convenient for you. The polls were showing that he would have lost the election. You're telling me the polls were saying that Julia Gillard was going to lose the election."
Ad. Article continues below.
At one point in the conversation, Bolt claimed that Devine was "attacking" him.  A claim that she denied.  After some more back and forth, Bolt exploded saying, "For Christ sake, Miranda. If you give me a question, I'll answer it, and if you keep interrupting me I'm afraid I'm going to hang up."  To which Devine replied, "We've got five weeks, we have to get on."
The next five weeks together was something that Bolt described as "a living hell".  After a while, they did calm down and needless to say, listeners will be tuning in again to see if there is a round two.
Did you hear the exchange on air?  What do you think of the presenters?