Peregrine Falcons born on live webcam...beautiful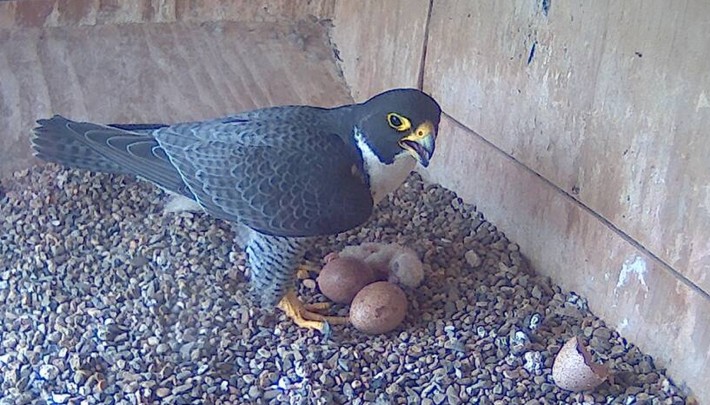 The most beautiful sight has been captured by staff at Charles Sturt University this weekend… the birth of three tiny peregrine falcons, a threatened species of bird and still very uncommon.
Two birds were showing an interest in making the campus grounds a natural home and built them in recent years a bird box, fitted with CCTV cameras referred to as FalconCam to study their behaviour.  And the results have been reaped this weekend with FalconCam capturing some rather amazing footage of the birds hatch three small offspring and caring for the new arrivals.
Ad. Article continues below.
The ABC have reported on the hatching, quoting adjunct lecturer in environment management Dr Cilla Kinross who says this is the only Peregrine Falcon Nest camera in Australia.  The cameras have been installed since 2007 and have seen nine birds successfully fledged, and a whole lot of casualties brought to the next of the fastest bird in the world.
"The ability to be able to watch them 24 hours a day is pretty unusual," she said.
"People have had to sit up in the cold and wet cliff tops, up trees and things to observe their behaviour."
Ad. Article continues below.
The birds, who have been named Bula and Diamond have been photographed in stills as the birds have hatched and there is some delightful footage we are excited to be able to share with you today that will warm your heart.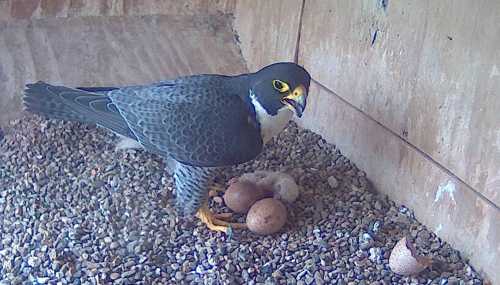 "This morning at about 4.30am local EST the first hatching began. The little bobblehead popped out with some help from Diamond who helped pull the shell apart from the squeaking eyas. It seems strong and capable, with all the right bits attached. A first feeding occurred around 7am which seemed a trial for both parties in figuring out how it all works!"
Ad. Article continues below.
Later on the following picture was published.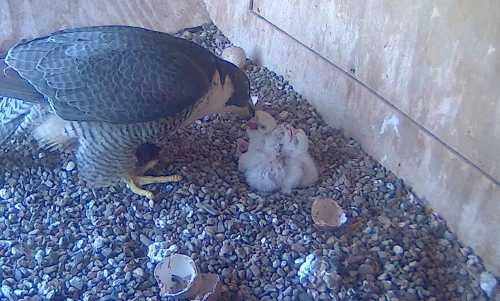 Enjoy the streaming video from the tower below and see more at the FalconcamProject.org.
Ad. Article continues below.
http://falconcamproject.org/