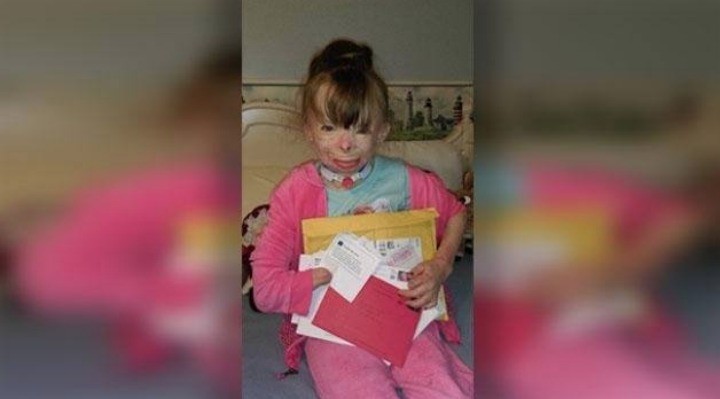 Last week,we brought you the story of Safyre Terry, an eight year old girl with a special Christmas wish. Now we are delighted to report that her wish has come true!
Safyre was orphaned in a house fire two years ago, and sustained horrific burns to 75% of her body. With so much to want for, all Safyre requested this festive season was a Christmas card or two.
Now Safyre has 300 000 Christmas cards! In response to her aunty's Facebook request, Safyre has now received well-wishes all over the world. The local postmaster said this was the most mail received for one individual ever!
Safyre's aunt, Liz Doler, said the pair have been overwhelmed by this immense public support. "I've cried so many happy tears, I think I'm going into dehydration", Ms Dolder said.
"She's my reason, I knew that when she was saved from the fire… Never in our wildest dreams did we think that she'd bring the world together over Christmas cards".
In addition, over 8 000 people have donated to a campaign for Safyre and her extended family. Together, they have raised more than $300 000 for her medical care and living needs.
Did you or someone you know send Safyre a Christmas card? Isn't it lovely that her wish has been granted by so many people?
You can send Christmas cards too:


Sa'fyre Terry
P.O. Box 6126
Schenectady, NY 12306
USA
ANOTHER SURPRISE! Safyre Terry, the little girl whose wish for Christmas cards went viral, gets another sweet surprise… http://abc7.ws/1ROboum

Todays Feel Good Story is about the generosity shown throughout the world for Safyre Terry who's received over 18,000…

#UPDATE: Today Sa'fyre received 185,000 letters and 4,000 packages – but that's not all. A very SPECIAL surprise is heading her way tonight. Tune in to #NEWS10ABC @ 5 for details.MORE: http://bit.ly/1QiD77k

Posted by WTEN on Monday, December 14, 2015
Comments