Peanut is the ideal small pet! Adopt her now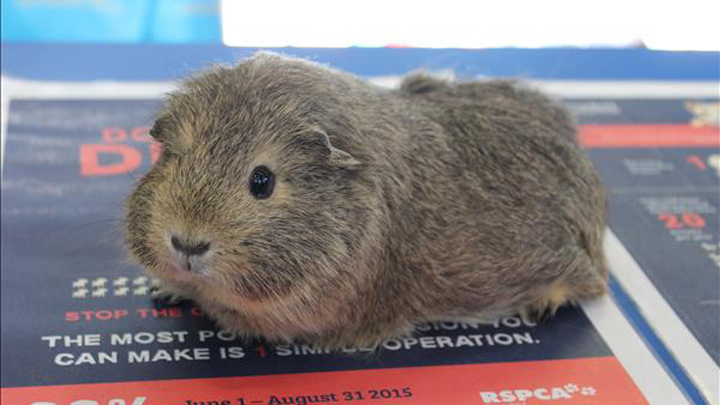 This beautiful guinea pig is looking for a home. Peanut's currently living at the Wacol RSPCA (QLD) and we're hoping our Starts at 60 community will reach out and give Peanut some love. Can you help her?
Name: Peanut
Age: 5 years
Gender: Female
Breed: Smooth Hair Guinea Pig
Ad. Article continues below.
ID: 869844
About Peanut:
Peanut is the friendliest guinea pig in town. She loves people and you'll be sure to go nuts over her. Peanut loves to be held, cuddled and will even have a chat to you. To adopt Peanut visit her at the Brisbane RSPCA – 139 Wacol Station Rd, Wacol. She's $30 to take home.
Starts at 60 Pets aims to find homes for beautiful abandoned, lost or donated animals. Do you know someone who would love Peanut?
Ad. Article continues below.
A message from the RSPCA regarding small animal adoption:
Buying a pet rabbit, guinea pig, ferret, bird, rat or mouse means that you are prepared to take on a serious daily commitment to care for the animal for a number of years.
Children can learn about caring for others, the responsibilities involved in having a pet in the household, and the unconditional love that a pet will give. Parents, however, must at all times guide children in their choice of a pet and the husbandry of the animal, and be prepared to supervise the day-to-day care so the animal's needs are met. See the RSPCA Australia knowledgebase for general care and feeding information.
Guinea pigs are interesting and fun little characters. Given the right facilities, they are easy to care for and with good handling, they can become quite tame and will enjoy sitting with you for some companionship. Because they are social animals, it is necessary that more than one pet guinea pig be kept for companionship.