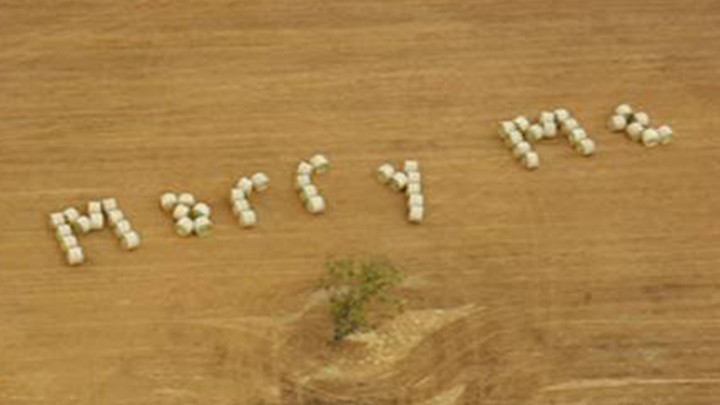 The recent South Australian bushfires were devastating, killing two people, destroying enormous spans of property and sending entire communities into a period of incredible darkness and hardship.
But no matter how bleak the circumstances, something wonderful can always sprout from the ashes.
According to 7 News, 29-year-old farmer Ben Kemp flew his girlfriend Jadine over the scorched remains of his family's Roseworthy paddock.
But not all had been lost. The hundred or so remaining bales of hay had been set aside… and arranged into the following message:
TALKING POINT: A man who lost 95% of his farm in last week's deadly South Australian fires salvaged enough hay bales to propose to his girlfriend. STORY: yhoo.it/1PBPGu8#7News #PineryFire

Posted by 7 News Queensland on Thursday, December 3, 2015
"Originally she said 'Oh my god, no', he told. "But that was more disbelief. This is not happening," he told AAP.
"Then she said `Yes, yes. Of course I will".
"It's a bit happiness in a dark time for the community".
Ben said the couple are now hoping to hold the wedding reception in the same paddock; a welcome reminder that the land still has a bright future ahead of it.
Have you ever seen something so wonderful come out of a dark time?
Comments