Our online habits: Communicating with grandkids in a digital world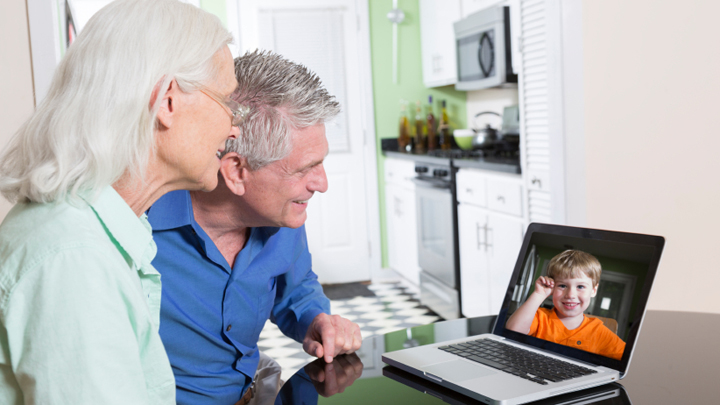 If you're a baby boomer grandparent, now is a great time to be one as technology has made the previously impossible, possible. In the past, grandparents had to communicate with their grandkids via snail mail or phone. Nowadays, we can talk to our granddaughter or grandson as if they were in the same room thanks to programs such as Skype and FaceTime, as well as keep up to date with their lives via Facebook and emails.
A recent study by AVG Technologies has revealed that of those baby boomers with grandchildren, half feel that technology has enhanced their ability to communicate with them. The survey of 5,907 respondents over the age of 50, all around the world, revealed 41 per cent of grandparents use emails, 34 per cent write text messages and 29 per cent use video conference. How fantastic is that?
According to Michael McKinnon, AVG's Security Awareness Director, said: "As our families scatter, more and more Australian grandparents are connecting with their grandkids online rather than over the Sunday roast. Gran's brag book is being replaced by videos of every toddler milestone being held in their smartphones and iPads. And tinkering in the shed Gramps is now more likely to be sharing an online game between visits. And we can see from this survey that grandparents are playing an active role in helping their grandkids play safely in their online world".
Would you agree?
It was also found that 46 per cent of Aussie baby boomer grandparents feel that technology has enabled them to communicate more with their grandchildren than they did with their own grandparents. And there are a number (16 per cent) that spend more time communicating with their loved ones online, rather than face to face.
Ad. Article continues below.
As we already know at Starts at 60, baby boomers are embracing technology and realise that there are many more ways to connect than when they grew up.
And, as typical grandparents do, they warn their grandchildren to restrict what they share online (50 per cent), to talk to an adult if anything upsetting happens online (46 per cent) and to remember that everything they post will be there forever (43 per cent).
"One of the great advantages in having grandparents about is that they aren't the parents! From their trusted position they can often use their experience to make a 'suggestion' to their grandchildren that would not necessarily be accepted if it came from mum or dad – 'who don't know anything'," Mr McKinnon observed.
Tell us today: how do you communicate with your grandchildren? Are you tech-savvy and use a range of different programs?