Organise and declutter your linen cupboard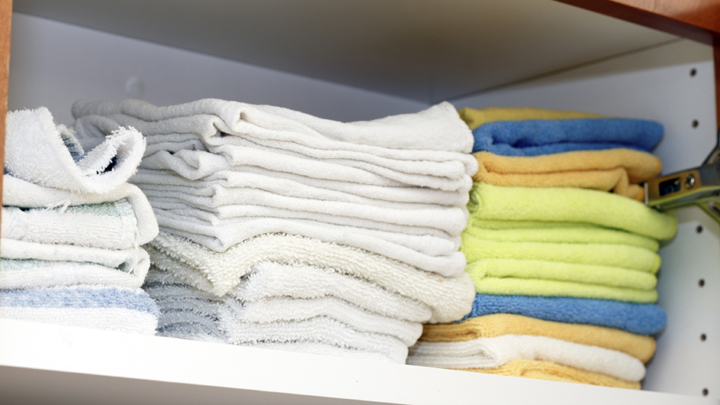 Do you store bed sheets and bath towels for all your family in your linen cupboard when it's now just the two of you?
The linen cupboard can be full of odd sized sheets that no longer have a use, patterned sheets that have outgrown the kids, ripped and torn sheets, stained and aged sheets and excess of unused and mismatched items.
It will take you a couple of hours to organise the line cupboard (depending on how much you have in it), but doing this will save you time in looking for sheet sets or sheets for a particular sized bed when you have visitors.
Let's start!
Ad. Article continues below.
Take everything out shelf at a time. Sort into piles of bed sheets, bath towels, beach towels, face washers, hand towels. If in good condition (and you have a current use), keep. If ripped, torn, stained or no longer used, throw out, give away or donate.
You are now left with what you will use and need. Now we need to put everything back, in order.
Arrange sheets by size and keep them in their sets. If you have different sized beds, l would suggest to label the sheets to keep it easy and simple.
Now you've made some space, you can keep your stock of spare toiletries in the linen cupboard (e.g. deodorants, toothpaste, tissues, toilet paper).
TIP: Keep spare bed sheets in the rooms where they are used. When you take off sheets to wash, the clean ones are there ready to use. This will free up your linen cupboard to function better and allow space to store other items, e.g. photo albums.
Do you have a lot of linen? How many bags did you end up donating?