One of life's most important roles: Being a grandmother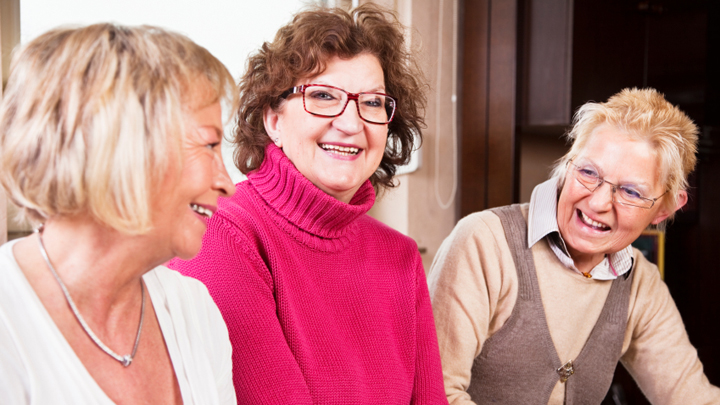 Grandmothers have a number of possible roles in their grandchildren's lives. I want to start with the image of grandmothers and then explore how they actually see their role.
The image of grandmothers
The traditional image of a grandmother is a little old lady with nothing much to do with her life, aside from knitting or stroking the cat. Some put this clearly into words: There's the classic image that they're a little bit sweet, a little bit grey, a little bit doddery, a bit fatter – they're slower, they're wiser, they're kindly. Probably less active, probably less worried.
– grandmother of two
Ad. Article continues below.
My first reaction when I heard I was going to be a grandmother was, oh God, that's not very sexy. I was in my 50s and I was having a relationship with someone whose comment was, 'I've never been to bed with a grandmother'. I just told him he could have a new experience – and if he fancied going to bed with me one day, just because my daughter's given birth overnight, why not the next?

I'm no longer with him, but his daughter's delivered two children since then, so he has become a grandfather.
– grandmother of two
One grandmother feels this general image devalues grandmothers and, in any case, is not based on reality:
I don't think grandmothers are valued enough. They tend to be seen as a little old lady with grey hair – that's totally out of touch with how people are. They say 70 is the new 50. You've got old people doing lots of things, we're working older as well, so it's not really caught up with how things really are.

I get very annoyed when I'm listening to the radio – a commentator said to some woman, whose husband had left and she had child care problems, why doesn't your mother do it? Well actually, most grandparents are working themselves and paying a mortgage themselves.
– grandmother of three
Ad. Article continues below.
One woman describes how she tried to fit herself into what she felt to be the classic image:
I was 50 and kind of astonished to find myself being a grandmother. One doesn't see oneself in that role, really. I went out and bought myself a suit and when I got home, I realised in the back of my mind that it was a suit that grandmothers would wear. I was never able to wear it. It was a kind of heather-coloured tweed. And it immediately 'grandmothered' me.

Then I thought, no, no, I don't have to do this! I hung on to the suit for quite a time, because it was quite nice, but every time I put it on, it felt completely wrong – I didn't feel I was that person. Of course, I hadn't changed, I was still the person I was, so there was no need to change the way I thought about clothes. I expect it went to Oxfam eventually and some other grandmother picked it up.
– grandmother of eight
An unconventional woman describes how her young granddaughter saw her:
When she was about seven, they had to write about their grandmother at school. She starts of by saying, 'My Grandma is not your average grandma. She's got modern hair, she wears make-up, she paints her toenails and she always looks as though she's going to smile.' At the bottom, she put, 'And my grandmother has a special place in my heart that nobody else could ever fill.'
Ad. Article continues below.
– grandmother of two
A key part of the image of grandmothers is that they are old, however that is defined. But not only do many older women not feel old, many are indeed not that old at all. For these, telling other people that they are a grandmother brings a pleasurable response:

The word 'grandmother' seems so ageing. When I was first a grandmother, my daughter was twenty, I was in my thirties. I always thought it was quite funny. When I said, 'This is my granddaughter', absolutely everybody would say, 'You're not old enough'. It was fantastic. And you have much more energy to enjoy them, a lot more stamina. The drawback is that you still have to make money and worry about the roof and everything.
– grandmother of one
People say to me, 'You don't look old enough to have a granddaughter'. It makes me feel nice that they think I'm still young – a lot of people put a perception on grandmothers as being quite old. In my mum's day, it was unheard of to be pregnant at a young age and have a young grandmother. Now, it's changed, I know one who's 38.
– grandmother of one
Ad. Article continues below.
When I tell people that I've got grandsons of that age, they say, oh no, you can't – you don't look old enough. I love it. It was one of the best things about being a mum at 21, because it's actually flattering for me. I've got a 34-year-old child, and people always say that can't possibly be. So that's nice.
– grandmother of three
Own grandmothers
One source of the image of a grandmother is a woman's own grandmother. Some have strong memories and feel that they have been influenced by the nature of their own grandmother. Food is clearly part of many memories:
Ad. Article continues below.
My grandmother was a typical head of the family. She was the woman everyone worshipped – the main character, the matriarch, the power. She was quite severe, but there was also a softness and tenderness about her. She became my role model in many ways. Her role was to keep everything in order in her house and cook delicious food.

She always had something special for me when I went there. I try to give that to my grandson. She used to boil milk so the cream settled, then gather that layer by layer in a plate, and put honey on it with nice bread. It was the most delicious thing in the world. An act of complete love.
– grandmother of one
We used to love it if we had to stay the night at our grandparents. The omelettes for breakfast – I can still taste them! They had a vegetable patch and my grandfather used to take us out and invite us to choose a carrot and we'd just pull it out of the ground and wash it and it was all crunchy. My grandmother was very grandmotherly, hands on. I try to do things like that when I visit – I always go with a tin of homemade biscuits, because my grandmother always used to come over with stuff like that.
– grandmother of five
My granny was a lovely woman back in Barbados. One day, she wasn't well, and none of her own kids were at home. I passed by and made her a cup of tea and gave her something to eat – and for that, she give me a baby chicken. I took it home to Mum and called it Peggy. We had to raise it – and when it got bigger, we ate it one Sunday for dinner. The way I am, it came from my Mum and my Gran.
Ad. Article continues below.
– grandmother of ten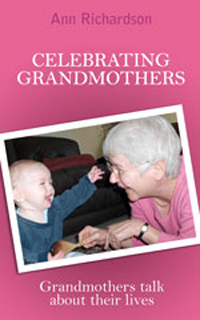 This is an excerpt from Celebrating Grandmothers by Ann Richardson, available here or Kindle version via Amazon.
To write for Starts at 60 and potentially win a $20 voucher, send your articles to our Community Editor here.