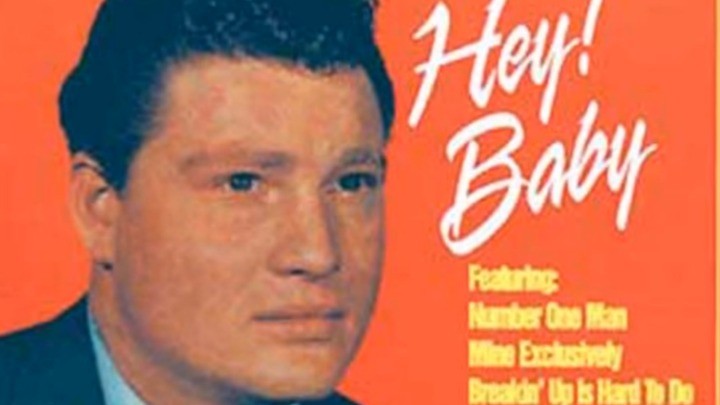 "Hey! Baby" reached number one on the Billboard Hot 100 on the 10th of March, 1962 and stayed there for three weeks.
Written by Margaret Cobb and Bruce Channel this hit was first recorded in 1961 and features a riff from Delbert McClinton, a prominent harmonica player of the time.
It is rumoured that the harmonica played in "Hey! Baby" inspired John Lennon to play it on the Beatles first single "Love Me Do" in 1962.
This hit song was most famously used in the hit film 'Dirty Dancing' in 1987, during the scene where Johnny and Baby dance on the top of tree logs.
"Hey! Baby" is an instantly catchy tune, reaching number two on the U.K charts, selling more than one million copies and was awarded a gold disc.
Channel went on to have another four singles on the Billboard Hot 100, "Number One Man" #52, "Come On Baby" #98, "Going Back to Louisiana" #89 and "Mr. Bus Driver" #90, none of which were anywhere near as successful as "Hey! Baby". This led to him being classified as a one-hit wonder.
"Hey! Baby" has been covered twice, first by Anne Murray a Canadian country pop singer. She released a cover in 1982, which reached number seven on the US Country Singles chart and 26 on the Contemporary chart.
The second cover was released by DJ Ötzi, who recorded "Hey Baby (uhh Ahh)" in July of 2000. It was re-released in 2002 when it became the unofficial song of  FIFA World Cup. DJ Ötzi's version reached number one in the United Kingdom, Ireland, Australia and Japan.
 Do you remember this song? Which version was your favourite?
Comments