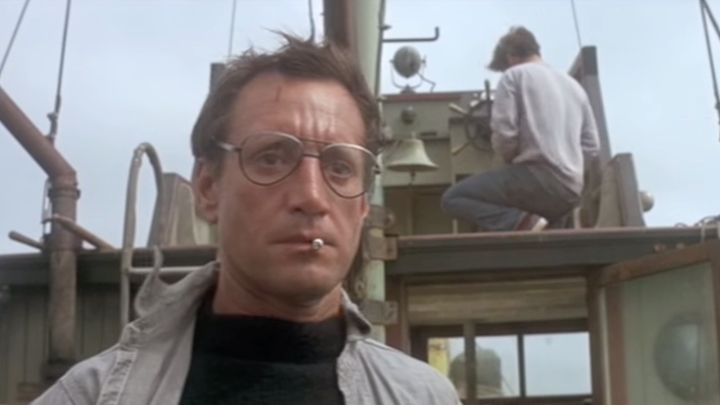 If you can't bring yourself to watch the film you will know the theme to JAWS. Legendary composer John Williams set the tone with an eerie and simple track that lets you know that danger in near.
Considered the first summer blockbuster film JAWS was almost as scary to make as the final film was to the audience. Production problems plagued the movie, mostly the mechanical shark Bruce continually breaking down. The film also had to battle the weather and a bloating production schedule.  The film was originally supposed to be shot in 52 days in actuality it took 155 days.
To make matters, and filming, worse there was a lot of tension on set as actor Robert Shaw, who played Quint, was drinking heavily and would constantly argue with fellow actor Richard Dreyfuss, who played Hooper. The latter issue helped the on-screen chemistry between their characters as they also disliked each other.
Some of Hollywood's elite also had a problem with the film like screen icon Charlton Heston, who was initially considered for the role of Sheriff Brody.  The role that went to Roy Scheider caused Heston to get so upset that he was rejected for the role that he refused ever to work with director Steven Spielberg. While it might not be hard to envisage Heston playing the role without the commitment to the role by Scheider we wouldn't have one of the great ad-libbed lines in film history:
Considering that the movie had a budget of about eight million dollars and grossed $470,653,000 the film is iconic in many ways. There are hours of stories about the production of JAWS enough to fill three feature-length documentaries Jaws: The Inside Story (2010), The Shark Is Still Working (2007), and In the Teeth of JAWS (1997).
One of the most endearing stories from the film is that of actress Lee Fierro who played Mrs Kintner. Her character suffers an unspeakable loss when her son Alex Kintner is killed by the shark in a pivotal moment in the movie. Decades after the film's release Fierro went into a seafood restaurant and noticed that offered an "Alex Kintner Sandwich". Fierro commented to the staff that she was in JAWS as the mother and the owner of the restaurant ran out to greet her. It was Jeffrey Voorhees, the boy that played Alex in the film and whom she hadn't seen since filming.
When was the first time you saw JAWS? Did it keep you out of the water?
Comments