No sex please, we're old!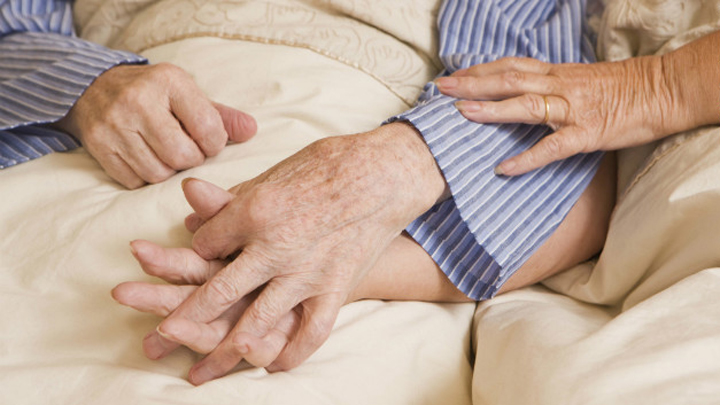 No, I don't want to have sex, I'm too old! Yes, that's right, I've wrinkled shut and won't be able to. Oh no, I could never engage in the horizontal dance again, I'm 60…
In case you didn't realise, I'm being sarcastic! I'm sick to death of reading magazines or seeing TV segments that assume that the only people who have sex are in their 20s. Condoms, contraception and even sex toys are marketed towards young people however I know for a fact that plenty of over 60s are in need (or want) of the above! A recent survey said that 65 per cent of over 50s are sexually active and 85 per cent said sex is not as pressurised as when they were younger – yes, that's right: it's much better in your 60s!
Even my own children shut their ears when I mention that their father and I are still quite active, and yes, granted, I wouldn't want to know about my parents' sex life either, but they have said numerous times that anyone over the age of 50 should just stop doing it. They ask sheepishly, how do you still do it? Well, just the same as we used to. Sure, we do have to change up the moves but they are by no means tame.
I do feel sorry for some men and woman over the age of 60 who have had sex for years, for medical or social reasons. Sex is not a filler for something else, but it does make me happy. I love the closeness of my husband and I, and while we don't have sex 10 times a week, it is at least once every couple of days.
Occasionally have some help to get things going smoothly (if you know what I mean…) but it's as passionate as ever. I want everyone to know that we are still sexual beings and the switch doesn't go off as soon as you blow out the candles on your 60th birthday cake!
Ad. Article continues below.
With all this said, one thing I have learnt about sex in my 60s is that you are not exempt from STDs. I have some girlfriends who have younger partners and they have contracted some nasty sexually transmitted diseases because they didn't think they needed to wear a condom.
Sex can still be fun in your 60s and it's not disgusting or wrong like the media portrays it. We learn to live with our wrinkles, bumps and sags, and revel in the parts that still work and feel good. I say, embrace your beautiful body as it is and be thankful for what you have been given. And if you don't have a partner….then find one! It is so fulfilling to feel sexy and express the sexuality inside.
Do you have sex regularly? Do you think sex has gotten better in your 60s? Why or why not?