Neil Young tells Donald Trump "No!"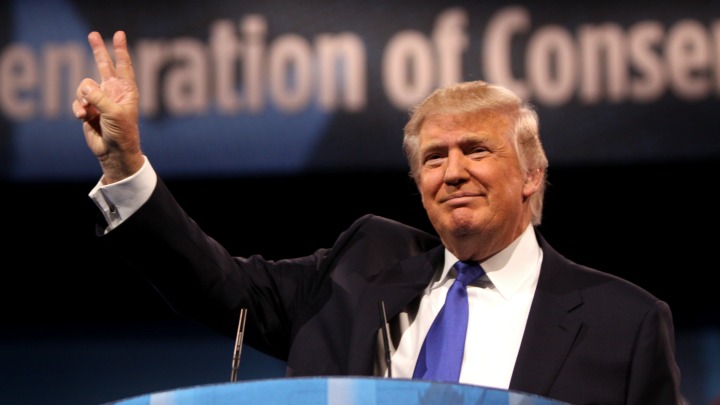 In fine US campaigning tradition, business magnate,  television personality and occasional politician Donald Trump took to the stage with a a powerful backing track, waving his arms in the air and claiming his right to run for President of the Free World.
Which is all well and good, except for one thing. Mr Trump neglected to ask the creator of his campaign song whether it was okay for him to use it.
And considering that song was Rockin' in the Free World and the artist was Neil Young.
Neil Young's management issued a statement hours after the Republican candidate took to the stage saying, "Donald Trump was not authorised to use Rockin' In The Free World in his presidential candidacy announcement. Neil Young, a Canadian citizen, is a supporter of Bernie Sanders for President of the United States of America"/
As if the chastise wasn't enough, the very choice of song was just plain wrong.
Ad. Article continues below.
Mr Young penned the lyrics in protest to the early administration of George HW Bush, to whose policies Mr Trump is likely to be aligned. Here's a reminder:
We got a thousand points of light
For the homeless man
We got a kinder, gentler,
Machine gun hand
We got department stores
and toilet paper
Got styrofoam boxes
for the ozone layer
Got a man of the people,
says keep hope alive
Got fuel to burn,
got roads to drive.
Keep on rockin' in the free world,
This is far from the first time a politician choosing an inappropriate song has occurred. VVN gives the example of New Jersey political candidates using Bruce Springsteen's Born to Run as the state song, not realising the lyrics actually talk about escaping New Jersey.
"I make my music for people, not for candidates." -Neil Young http://t.co/Q22yuXoVkc pic.twitter.com/aFWMIggnsD

— Rolling Stone (@RollingStone) June 17, 2015
Ad. Article continues below.
Neil Young's  former bandmate, David Crosby, weighed in on Twitter, saying, "Trump has picked a fight with the wrong guy … bad idea".
In other bizarre news, Donald Trump says he would love to have Oprah Winfrey as a running mate. Apparently she is not keen.
Tell us, do you think Donald Trump should have asked Neil Young before using his song?