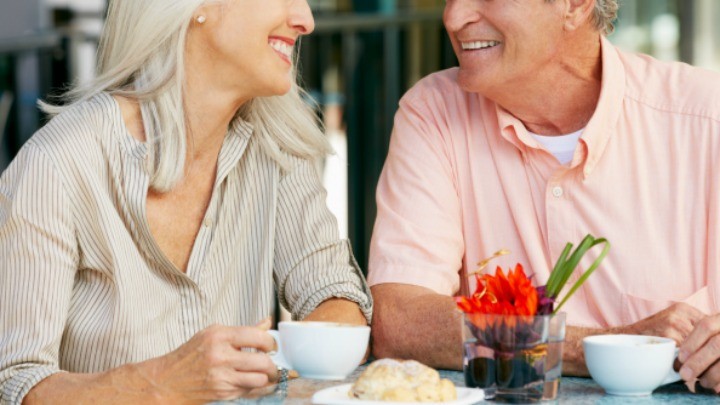 At age 58, I experienced a painful divorce that I never imagined recovering from. Three years on though, it was time to start dating again. Here's how I rediscovered a little romance…
Geoff* and I were married young. Looking back, I realise getting hitched at nineteen barely gave me time to know myself, let alone being ready to "care for a man". Don't get me wrong, Geoff could be kind and funny but I see now that it wasn't exactly "true love".
We had one daughter, my beautiful Sarah*. For four decades, Geoff and I went to work, built a house and got Sarah through school. We often spent weekends apart because Geoff would work, and I would take Sarah to ballet lessons or school events.
I wish Geoff and I had made more time for "each other" back then. We never really built common friendships or shared any hobbies together. When Sarah eventually went to work interstate in her late teens, Geoff and I were left alone in the family home.
We were like two strangers within one house, so it was no surprise that we quickly began bickering. In time, Geoff would ask me for a divorce and I would agree. I never expected such a racket about "who got what" though. Geoff wanted all the kitchen gear (even though he never cooked!) and I held my ground about our beloved staffie, Blue.
The divorce took eighteen months to settle, and it was an exhausting process. Fronting up to the family court to finalise all our paperwork was a sobering experience. I'll never forget Sarah's face as she watched her parents go their separate ways forever.
Even though my marriage could have been better, being "single" didn't suit me either. I felt alone in the family home, and with Sarah gone there was only Blue to keep me company. After a few years, Sarah finally mentioned online dating.
"I could set you up with a profile, you know Mum", she said keenly. "There's plenty of older women online, and you're still young!" I couldn't have agreed less, though. I felt totally uncomfortable about the idea of my face being on the internet. Plus, I had so many lumps and bumps I couldn't imagine being "on the market" again!
As months wore on though, I thought more and more about Sarah's idea. It seemed a number of my divorced friends were using Facebook to chat with men in their common circles, and maybe the idea of having some company wasn't all bad. Maybe I was finally "ready" to move on from my divorce?
"Sign me up", I told Sarah over the phone. "But only if it's safe!" Sarah helped build my profile on a reputable dating website, and we'd go through any potential "matches" together. I must admit, I got a thrill from receiving the kind little notes from potential suitors. (One told me that my photos showed "a lovely smile and kind eyes". How sweet!)
Although we all know the internet can be dangerous at times, so Sarah and I would "check" the men on their own dating profiles and look them up on Facebook too. If I got sent any creepy messages (once a man told me he wanted to "see more of my skirt") I'd instantly delete the correspondence.
One day, I got a message from a man in my neighbourhood named Bob*. He was divorced too, had a staffie named Charlie, and was new to the dating scene. After my normal "safety checks" and a few weeks of chatting online, Bob asked if I wanted to meet for dinner.
I. Was. Terrified. My first date in over forty years! What would I wear? What would we talk about? How could I spot Bob? What if he looked different from his online profile? Would I even be safe? So many scary thoughts ran through my head. Doubt almost overcame me, and I thought about turning down Bob's offer.
"You have to go!" Sarah told me over the phone. "You just need an exit plan in case Bob is a dud, that's all". Sarah suggested that she could call me one hour into the date, and if I wanted to leave, I could make up an excuse about my daughter "needing something". Sarah also suggested that I switch dinner plans into coffee, to put less pressure on both Bob and I.
I got a reply from Bob within hours: "Sounds good, see you Saturday" it read. As the weekend came around, my nerves grew stronger. At 9.30am on Saturday, I started getting dressed for my first date post-divorce. I selected a red dress that I'd worn to a wedding some months back, and paired it with my favourite pearl earrings. I wore a short court shoe, so I'd look presentable but still feel comfortably "myself".
When I arrived at the coffee store, I looked around a sea of faces. Then a smiling, tall man stood up and waved. It was Bob! With butterflies churning through my stomach, I approached his table. Bob ordered us both cappuccinos with lemon cake, and we began to chat. That morning, I laughed a lot and listened to Bob's stories. He was well travelled, having been a contractor before he retired.
It wasn't true love, though. After a couple hours spent with Bob, I knew that he wouldn't be my "perfect match". There was nothing "wrong" with Bob, I was just missing a spark that I knew could exist in companionships. Sarah called halfway through the coffee date, as she promised too. "How's it going, Mum?" Sarah asked.
"Very well", I smiled. "I'm having fun!" It was true. I wasn't having fun discovering Prince Charming, no. Instead, I was having fun realising a few things. Firstly, that I could get "back on the dating horse" if I really wanted too. That I was ready and able to move on from my divorce now. Secondly, that an older man could still find me interesting, and that worries about my appearance didn't have to control everything. And thirdly, that romance and love is out there, if you're just willing to look!
Since then, I've been on two more dates. The most recent man I didn't meet online, but instead a mutual friend introduced us because she thought we'd get on well. We're already two dates in, and next week we're going to dinner! I won't need Sarah to make an "exit plan" this time, either. Things are definitely looking up.
Have you begun dating again, after a divorce? What was it like rediscovering romance? Do certain worries hold you back from the dating scene? Can you relate to this woman's experiences?
*Names changed to protect privacy
Comments