Classic car collection reduced to rubble after California fires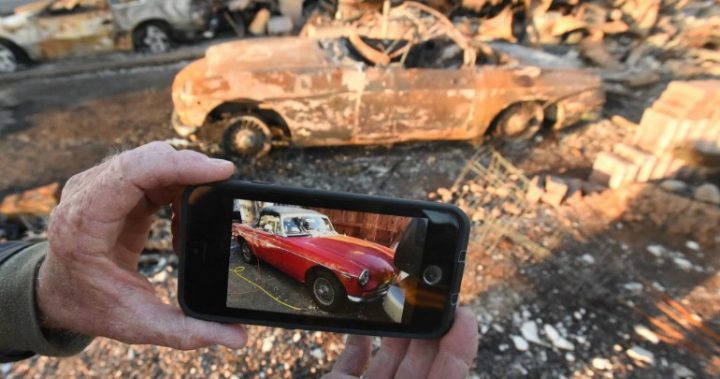 Car collector Gary Dower has been left devastated after his rare car collection was destroyed by October's deadly Californian wildfire.
Dower lives in Santa Rosa, part of the famed Sonoma wine region in California's north, which was ravaged by the raging wildfire that broke out in the state earlier this month, killing 42 people.
Officials estimate the fire's damage bill will top $US1 billion and that more than 8,000 homes and buildings have been destroyed, including Dower's prized car collection.
Dower shared before and after photos of his beloved cars, which include a 2010 Dodge Challenger Limited Edition SRT8; a 1973 MGB Roadster; and a classic 1967 Chevorlet Camaro estimated at a value upwards of $70,000, showing the powerful force of the uncontrollable flames.
Ad. Article continues below.
Multiple images show his cars in perfect condition on his phone screen with the gutted remains in the background.
What were once bright, colourful cars are now charred beyond recognition.
Ad. Article continues below.
The wildfire broke out on October 8 and residents in the region were only allowed to return to their homes on Friday.
Many came back to find their houses and businesses gone and their neighbourhoods destroyed.
Firefighters struggled for weeks to gain control of the flames, but were finally offered some reprieve at the weekend when rain began to fall over the famed wine region.
Ad. Article continues below.
Somoma and the Napa Valley produce the majority of America's wine. Thankfully, a reported 90 per cent of Napa´s grape harvest had been picked prior to the fire and escaped exposure to smoke that could have tainted the fruit, meaning many local business will have a buffer to help them through the rebuild.
The big issue that remains now is housing, with thousands of locals left homeless and out of pocket.
Are you a fan of rare cars? Do you collect anything? How would you react if your life's work was destroyed like this?