Mitsy is a senior cat looking for a second chance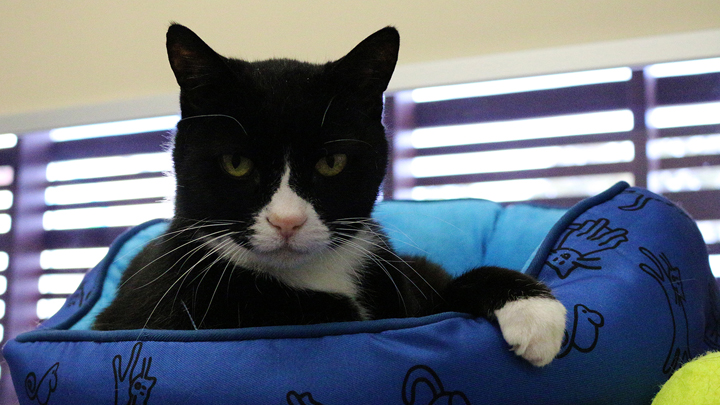 This beautiful cat is looking for a home. Mitsy's currently living at the Wacol RSPCA (QLD) and we're hoping our Starts at 60 community will reach out and give her some love. Can you help Mitsy?
Name: Mitsy
Type: Cat
Breed: Domestic short hair cross
Sex: Female
Ad. Article continues below.
Age: 14 years, 4 months
ID: 861058
About Mitsy:
Mitsy is a senior pet looking for a second chance. Mitsy is one chilled out cat, happy to watch the world go by. She enjoys watching what you're up to, having a brush and pat, dinner time, napping, and occasionally playing with a piece of string. Adopt her from the Brisbane RSPCA Animal Care Campus – 139 Wacol Station Rd, Wacol. She is desexed, microchipped, worm and flea treated and $120 to adopt. Call 3426 9999 for more information.
A message from the RSPCA regarding cat adoption:
Ad. Article continues below.
Please visit the RSPCA to see all of the cats and kittens that we have available for adoption. All adult cats receive a temperament assessment, and our staff will be able to offer advice on the particular cat that you have chosen. It is important to note any recommendations that staff make in regard to a particular cats' suitability to different home environments, such as those with small children and/or other resident cats. Our cats have been colour coded using our Find Your Feline Friend system to give you an indication of the family type that will suit them best.
Owning a cat is a great experience as they are excellent companions. However, although they are often highly independent and seem self-sufficient, it is important to remember that they do require our care. Before you purchase a cat please ensure that you have thought carefully about the responsibility of cat ownership.
Never buy a cat on impulse – cats can live up to twenty years or more. Owning a cat is a commitment, which should be carefully considered.
The RSPCA recommends that owned cats should be confined to the owner's property at a minimum from dusk to dawn. This will protect the cat from accidents and fights and provide some protection to wildlife.
Each shelter will require an adoption application form to be filled, and an additional 24-hour cooling off period can be required to give you the opportunity to ensure you have made the right decision and not adopting on impulse. An interview can be arranged with an adoption officer to ensure that the best possible match has been made after this cooling off period.
Starts at 60 Pets aims to find homes for beautiful abandoned, lost or donated animals. Do you know someone who would love Mitsy?